Posts
https://debraleebaldwin.com/wp-content/uploads/2018/01/PC080318.jpg
2438
3250
Debra
https://debraleebaldwin.com/wp-content/uploads/2015/04/Logo-White-H200px.png
Debra
2018-01-10 12:03:17
2018-05-31 23:06:42
Perfect Succulent Art-Pot Pairings
https://debraleebaldwin.com/wp-content/uploads/2018/01/PB300302.jpg
3456
4608
Debra
https://debraleebaldwin.com/wp-content/uploads/2015/04/Logo-White-H200px.png
Debra
2018-01-07 17:00:33
2018-04-05 22:46:35
What's Your Ultimate Aloe?
Dec. 27, 2017
Whenever I'm asked how to find certain succulents or services that are in short supply, I wonder why so few offer them. After all, there's clearly money to be made! If you or others who might make these happen are merely unaware, hang on, I'm about to remedy that.  Btw, I'm happy to help get the word out about anyone who offers the services I've listed here.
Note: Most involve in-ground succulent gardening and therefore are limited to southern and coastal CA from the Bay Area south. Those that are mail-order will probably require a greenhouse. 
#1: Succulent garden maintenance. Unlike mow-and-blow yards, succulent gardens need maintaining seasonally (three or four times a year). How to make $$$: It's the same as a gardening service, but with many more clients, much less often. Because it's an in-demand specialization needed infrequently, charge at least 2x the hourly rate of lawn-mowing, hedge-trimming services. All you need: A thorough, hand's-on understanding of all sorts of in-ground succulents and their care and cultivation, plus a truck, physical strength and tools. Note: You might combine this with #2 and #3.
#2: Free succulents, trimming and installation. People with large succulent gardens have loads of trimmings and pups. Because it seems a shame to haul them to the dump, they're happy to give them away. How to make $$$: Arrange to pick up cuttings from overflowing gardens and deliver them to sparse ones. Charge for hauling, trimming and digging, and/or preparing the soil and planting. All you need: a small truck, physical strength, and garden tools.
#3: Succulent firebreak specialist. Because the plants don't catch fire but rather cook and collapse, wide swaths of succulents have been shown to halt the progression of wildfire. (Not to mention being beautiful and supremely sensible.) How to make $$$: Charge the going rate for garden design and installation. If you're already a landscape designer, or are already doing #1 and #2, offer this to your clients. All you need: Common succulents obtained as cuttings (jade, aloes, agaves, elephant's food, firesticks) or customers willing to pay for quantities of nursery plants; a truck and tools.
#4: Spineless opuntia supplier.  I can't say enough good things about this smooth-leaved succulent, which at present is in short supply. It makes a good backdrop, offers pleasing repetitions of form (those oval pads), gets by on rainfall alone (if there is any, sigh), thrives in poor soils, is a good firebreak (pads are as thick as oven mitts), can serve as a hedge or security fence (although not at all treacherous, trespassers assume it is), is edible (nopales), and is high in nutrients (including cancer-fighting antioxidants). How to make $$$: Cultivate the plants and combine them with suggestion #3. All you need: A source of the pads (Google Opuntia cacanapa 'Ellisiana'), growing grounds, and time for the plants to mature (three years).
Note: It seems easy enough to plant spineless opuntia as a firebreak, and after its spring growth spurt, slice off and sell the fresh new pads. But how to become a vendor? In order to have customers come to your home, you need to be zoned for it. You might arrange to deliver the pads to clients, or set up a booth at garden events and farmer's markets. Or, if you own acreage zoned for commercial crops (traditionally, citrus or avocado orchards), contract with a company that'll handle harvesting and sales. (Granted, I'm not aware of any, but it's early days yet. Maybe start one?)
#5: Cactus boutique owner. As succulent aficionados gain sophistication, they appreciate simpler, geometric shapes as well as spines that glow beautifully when backlit. Small cacti are highly collectible. How to make $$$: Cultivate and sell specimens (especially spherical ones) online and at farmer's markets and garden shows; come up with cool new design concepts; host workshops. All you need: A good eye, creativity, a wholesale source within driving distance, a lathe house or greenhouse and shipping materials. Note: Read more about this trend in my post, "Is Cactus the New Black?" 
#6: Echeveria grower-specialist. This is the yin to the yang of cacti. These rosette succulents are popular because they resemble fleshy flowers, and interest will boom as even more jaw-dropping varieties become available. How to make $$$: Grow your own fancy ruffled varieties (by beheading; it's easy) and sell them online, to florists and nurseries, and at farmer's markets and garden shows. Speak at clubs and offer workshops in echeveria care, cultivation, propagation and design. Aim to become known as "the echeveria expert." All you need: An initial investment in starter plants, a lathe house or greenhouse, time for offsets to reach maturity, soil, pots, tools, and shipping materials.
#7: Skilled rockscaping. Boulders, decomposed granite and crushed rock need no irrigation or maintenance, look great forever (especially when artfully arranged), don't catch fire, and create a practical, beautiful environment for plants. How to make $$$: While working on your degree in ornamental horticulture, get a job with a major rock supplier (in the San Diego area: KRC, RCP or SW Boulder). Apprentice yourself to a landscape contractor. After several years, launch your own business. All you need: Time, energy, physical strength, design ability, and the ability to prepare a site and transport and position rocks of all sizes.
P.S. If the above info helps someone find their calling, I'd love to know! ~ Debra
Related Info ~
---
https://debraleebaldwin.com/wp-content/uploads/2017/12/Screen-Shot-2017-12-27-at-8.54.53-PM-2.png
870
1153
Debra
https://debraleebaldwin.com/wp-content/uploads/2015/04/Logo-White-H200px.png
Debra
2017-12-27 21:24:11
2018-04-13 10:11:20
Seven Ways to Make Money with Succulents
The newly released, completely revised and updated second edition of Designing with Succulents is the best book on the topic, ever. But why believe the author?
Book reviewers are important. It's not the author or a publicist telling you how good a book is, it's editors, radio show hosts, columnists, industry pros and peers whose opinions are impartial and credible. Consequently, I'm very pleased and proud to share with you reviews by…
Excerpt: "With more than 400 engaging, colorful photographs, this is a book for the seasoned succulent aficionado or the wannabe windowsill gardener."
— Mary Ann Newcomer for Country Gardens magazine, a Better Homes & Gardens publication
---
Excerpt: "Inspiring photos of world-class gardens are scattered throughout, but designers will especially appreciate the featured gardens that are profiled at the beginning of each chapter."
— Susan Morrison, author of The Less is More Garden: Big Ideas for Designing Your Small Yard (Timber Press, Feb., 2018), for The Designer
---
Excerpt: "Has everything to keep the succulent lover entertained and plenty of knowledge to help a new gardener become an expert." — Rachel Eroh, Phoenix Home and Garden magazine
---
Above: from Garden Design magazine's weekly e-newsletter.
Also: "If you liked Debra Lee Baldwin's first edition of this book published 10 years ago, then you will definitely have to have a copy of this complete re-write, which includes several featured succulent gardens from designers and dedicated homeowners. . . . a book every succulent lover needs." —Garden Design Magazine
"A masterly book about the creative use of succulents in modern landscapes." —John Bagnasco, host of Garden America radio show and co-author of two books about succulents.
"Takes the mystery out of these fascinating plants. The book is well illustrated, full of good information, and eminently readable." —Brian Kemble, curator of the Ruth Bancroft Garden; board member of Cactus and Succulent Society of America
"Another classic with amazing photos. From images that show you what can be done, to explanations that help you do it, this is a must-have for succulent gardeners." —Ken Altman, president of Altman Plants
"Many people know about succulents, but using them in the landscape is another matter. Designing with Succulents shows us how; it's inspiring, practical, and complete—a treasure for any gardener who loves these otherworldly beauties." —Kathleen N. Brenzel, Sunset magazine
"Home gardeners as well as those looking for a 'Zen' book-cation of browsing gorgeous plant photographs should read (and purchase!) Designing with Succulents. Readers will be inspired by both plants and design, and take away principles and projects to incorporate more beauty into their surroundings and everyday lives." —Esther Jackson, librarian and columnist, New York Botanical Garden's Plant Talk
"Thanks to Baldwin's expertise on succulents from propagation to design, beautiful photographs, and personable writing style, [Designing with Succulents] retains its well-deserved status as the bible for succulent gardeners." —Pam Penick, Digging 
"Gardeners new to these plants will find both useful information and inspiration in this book. Experienced growers of succulents also will discover motivation to explore possibilities for refining their gardens and containers, and enjoying gardening with succulents." —Tom Karwin, The Santa Cruz Sentinel 
"The second edition of Designing with Succulents is an instant classic. It's a must-have for any succulent lover, even if you already own the first edition…my most anticipated book of the year." — Gerhard Bock, Succulents and More
https://debraleebaldwin.com/wp-content/uploads/2017/12/Country-Gardens-review.png
1394
1802
Debra
https://debraleebaldwin.com/wp-content/uploads/2015/04/Logo-White-H200px.png
Debra
2017-12-22 18:03:29
2018-01-30 15:54:21
What Reviewers Are Saying About "Designing with Succulents"
Dr. Camille Newton of Bonsall, CA, texted me immediately after the Lilac Fire to say that eight homes on her street had been destroyed, yet hers was unharmed. "Succulents saved the day," she said. 
Such reports aren't unprecedented. Suzy Schaefer's succulent garden in Rancho Santa Fe "saved our home," she told me (and national media) after the Witch Creek Fire. I knew of others as well. Even so, I was skeptical. True, succulents tend to cook rather than burn and don't transmit flames. But wildfire is so intense it melts metal and glass. What chance does any plant have?
Moreover, wildfires are wind-driven. A barricade of fleshy plants might halt a brush fire, but what about flying, flaming embers? And isn't it possible that what appears to be salvation-by-succulents is merely the capricious way wildfire skips houses?
Even so, Dr. Newton, a geriatrician who often deals with life-and-death situations, is no sensationalist. She was calm, matter-of-fact, and had photos for proof.
Doubtless you know that I'm a big champion of succulents, but what you may not know is I'm also a journalist. I'm aware of how emotion and wishful thinking can cloud a reporter's judgment. Yet what I saw when I went to Camille's truly amazed me.
Above: News photo of the house next door to Camille's during last week's Lilac Fire in Bonsall, CA. Below: Same property after the fire. 
Next door, where a home had been reduced to ash and charred appliances, the only green left in the yard was an Agave vilmoriniana with singed leaves. Along the driveway were a former fence of cylindrical wooden posts that had burned down into the ground, and black sticks—former ornamental shrubs—flattened by fire and wind.
So, what IS it about succulents that makes them…dare I say it…fireproof?
Clearly more research is needed, and YOU can help: If you know of a wildfire-burned home that had succulents planted so densely (like Camille's) that they should have served as a firebreak, yet they didn't, please tell me. Tens of thousands of hopeful California homeowners (myself among them) need to know: Are Camille's and Suzy's experiences merely luck, or did succulents really save their homes?
What I can say with certainty is that planting a swath of moisture-rich, fleshy-leaved plants is smart if you live in a mild, arid region plagued by drought and wildfire. Readily available agaves, aeoniums, elephant's food, aloes, jade, and ironically-named 'Sticks on Fire' propagate easily from pups and cuttings, are low-water and low-maintenance, and when combined, create a gorgeous garden. If it also serves as a firebreak, well—as I told a KFMB-TV reporter—that's certainly icing on the cake.
There's plenty more that homeowners need to know in order to create a firewise landscape. Topics I'll address in future newsletters, YouTube videos, and articles include: How to create a succulent garden like Camille's that's broad and dense enough to serve as a firebreak. How to obtain my Top Six Firewise Succulents and start them from cuttings. Also, why Camille's succulents are especially lush and vibrant. (I suspect it's her free-and-abundant soil amendment, composted horse manure, atop a substrate of decomposed granite.)
I urge you to watch my two videos in which Camille shares her story and garden. Also in my video, Do Succulents Burn? I test jade plant, aeoniums, paddle cactus and more by tossing them in a gas fire pit. Even if you don't live with the threat of wildfire or where succulents can grow outdoors year-round, I promise you'll be entertained, fascinated…and, like me, amazed.
Ten years earlier, in Oct. 2007, the succulent garden on the cover of Designing with Succulents (first edition) also "saved" a Rancho Santa Fe home. As in Camille's situation, neighboring houses burned to the ground. [Read more]
View my 6-minute video: Do Succulents Burn? Compare the combustibility of jade, aloe, aeonium, firesticks, elephant's food and paddle cactus to branches cut from bamboo and oak trees. 
Note: The horrific CA wildfires of 2017 are a vivid reminder of when my husband and I and our two dogs were evacuated in 2007. During three awful days, we didn't know if we'd have a home to return to. Using succulents as firebreak plants can help protect properties in wildfire-prone areas, but in no way do I want to imply that succulents are THE answer, nor (God forbid) do I want to try to capitalize on others' suffering by suggesting you buy my book. My sympathy and prayers are with past and present victims. ~ Debra Lee Baldwin
https://debraleebaldwin.com/wp-content/uploads/2017/12/IMG_4457.jpg
3264
2448
Debra
https://debraleebaldwin.com/wp-content/uploads/2015/04/Logo-White-H200px.png
Debra
2017-12-10 10:59:51
2018-02-09 10:53:28
"Succulents Saved the Day," Says Homeowner after Wildfire
A succulent topiary tree holiday centerpiece needs less care than a floral arrangement and lasts much longer—several months or more. Its requirements are similar to those of a succulent wreath: bright but not intense light (rotate occasionally for even exposure), weekly watering (from the top, to evenly moisten the moss), and pinching back if cuttings get leggy.
See how I made this one in my YouTube video: DIY Succulent Topiary Tree.
The method is simple: poke holes in the moss, insert cuttings, and secure them with floral pins. It takes about two hours, start to finish, and you'll need approx. 200 one-inch-diameter cuttings. Harvest them from your garden, potted plants, nursery-grown succulents or from online sources. You needn't use the same varieties that I did, but do aim for contrasting colors and textures. Use jade plant (Crassula ovata) as a filler—it's inexpensive and easy to come by. Stay away from blue, blue-gray and lavender succulents because those aren't holiday colors—unless of course that's what you prefer. And do resist the temptation to decorate the little tree with vivid ornaments, thereby making it all about them and not about the succulents (but then, I'm a little prejudiced).
MATERIALS
Topiary cone made of sphagnum moss, 12″ tall (including wooden base)
200 floral pins (or paper clips cut in half with wire cutters)
Clippers or scissors for taking cuttings and shortening stems
Chopstick or a Phillips screwdriver for poking holes in moss
Succulents (suggested, but nearly any kind will work):
Crassula ovata 'Minima" (mini jade), 60
Sedum nussbaumerianum (Coppertone stonecrop), 30
Sedum rubrotinctum 'Aurora', 50
Senecio haworthii, 60
Optional:
Lazy susan
Crystal corsage pins (around 50)
Senecio rowleyanus (string of pearls plant), 9′ of strands for garland
More info and ideas ~
Watch my YouTube video, DIY Succulent Topiary Tree
For my Succulent Topiary Sphere design project, see pp. 156-161 of Succulents Simplified
See the Topiary section of Succulent Container Gardens, pp. 178-181
Follow my Pinterest Board, Succulent Topiaries
Happy Aloedays!
Debra Lee Baldwin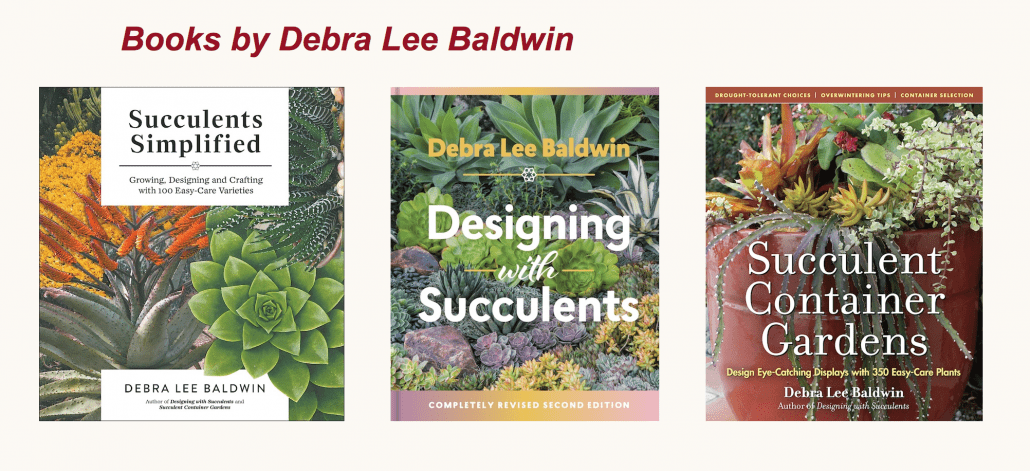 https://debraleebaldwin.com/wp-content/uploads/2017/11/Topiary-tree-red-background-1.png
1300
2384
Debra
https://debraleebaldwin.com/wp-content/uploads/2015/04/Logo-White-H200px.png
Debra
2017-11-19 16:13:57
2017-12-27 18:17:41
Succulent Topiary Tree
 The wicker cornucopia was $4.99 at a thrift store. So I grabbed it. At the supermarket, I sorted through gourds for "the best bottoms," and got a bag of in-shell nuts. At the nursery, I went up and down the aisles muttering, "Succulents that look like fruit."
I loaded up on sedums in fall colors and an aloe shaped like the basket. But when I spotted a Euphorbia obesa with multiple offsets, I nearly swooned. It was pricey at $12.99, but I had to have it. Just look how it goes with the gourds! 
 Sources: Succulents are from
Altman Plan

ts'
retail outlet north of San Diego, Oasis Water Efficient Gardens.
Wicker cornucopias can be found at craft stores and online. 
---
https://debraleebaldwin.com/wp-content/uploads/2017/11/Cornucopia.jpg
1765
2500
Debra
https://debraleebaldwin.com/wp-content/uploads/2015/04/Logo-White-H200px.png
Debra
2017-11-14 10:28:07
2017-12-27 18:18:32
Succulent Cornucopia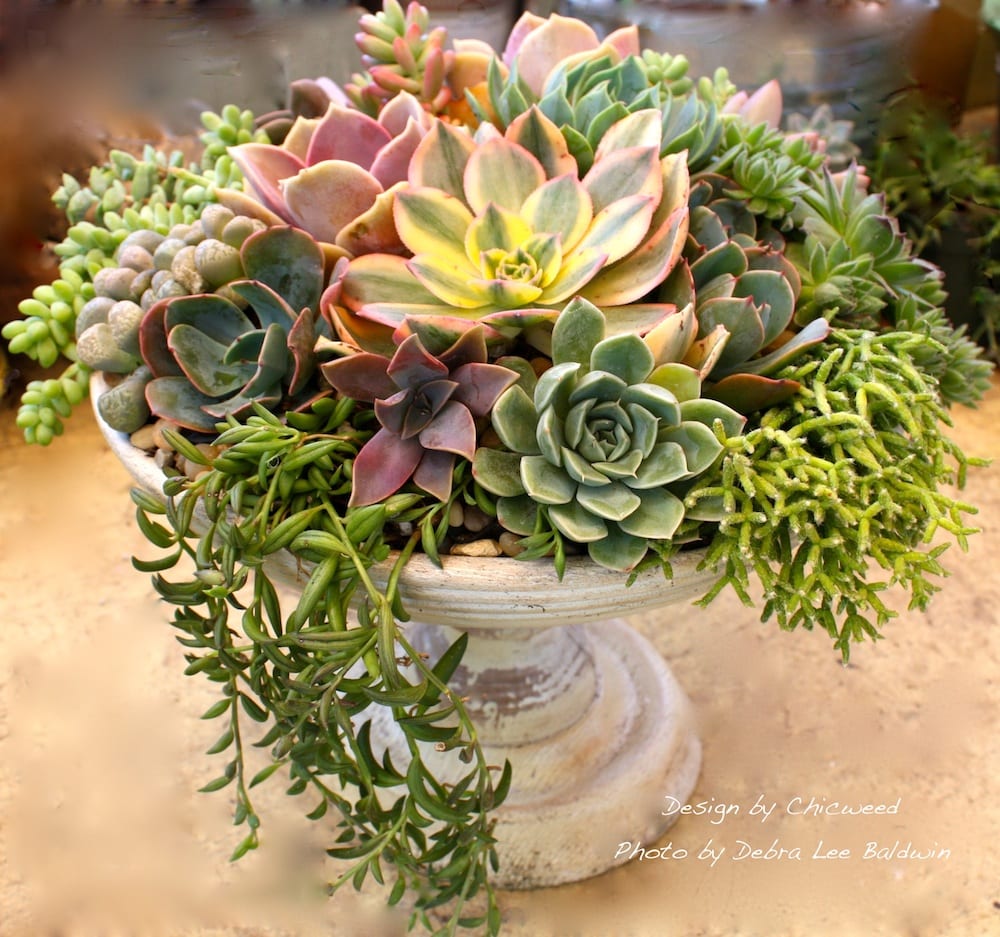 A raised pedestal container garden stuffed with a lush collection of succulents looks complicated, but it's simple once you know how. To create this floral-style centerpiece, the designer chose a white-painted wooden urn 12 inches in diameter and 8 inches tall, with a basin 3 inches deep. Plants include 'Sunburst' aeonium, Echeveria 'Perle von Nurnberg', burro tail sedum, assorted blue echeverias, lithops (living stones), and Seneco radicans (fish hooks).
Cut a circle from heavy mil plastic (such as a trash bag) and use it to line the basin. Fill with potting mix and press down on the soil with your palms to compact it. Form a mound several inches high in the middle that slopes to just below the rim.
2. In the center, plant an upright cluster of the largest rosettes.
3. Tuck smaller plants or cuttings around the center grouping, facing outward at a slight angle.
4. When the arrangement is nearly finished but still has some gaps, use a chopstick to push roots of remaining plants into the soil, and to tuck and conceal the edge of the plastic below the rim.
Gently brush spilled soil off the leaves, then water the completed arrangement lightly to settle the roots. Because there's no drainage, water it minimally, about once a week, to moisten the soil, but not so much that the roots are sitting in a puddle of water.
Design by Fresh Chic, a division of CW Design & Landscaping
For more Fresh Chic designs, see my article, Tips from a Top Container Garden Designer
Also find lovely centerpieces in my book, Succulent Container Gardens. Learn how to make them in my online Craftsy class, Stunning Succulent Arrangements. And be sure to visit my YouTube channel for more great ideas for using and designing with succulents! ~ Debra Lee Baldwin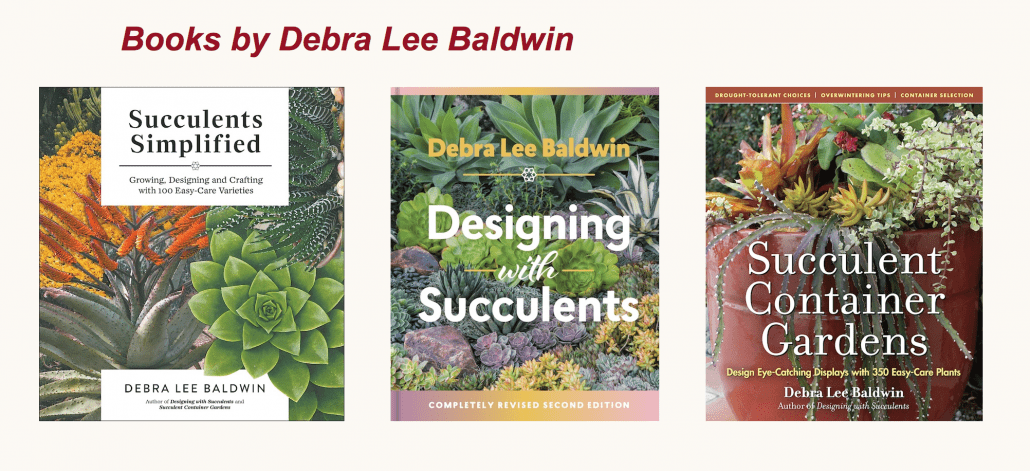 https://debraleebaldwin.com/wp-content/uploads/2015/11/IMG_4090annotated_resized.jpg
667
1000
Debra
https://debraleebaldwin.com/wp-content/uploads/2015/04/Logo-White-H200px.png
Debra
2017-11-09 17:09:03
2018-07-16 22:35:00
DIY Succulent Centerpiece Step-by-Step
Where you live makes a big difference when it comes to the well-being of your succulents in winter. Most varieties go dormant in winter and are frost-tender, meaning they can't handle temps below 32 degrees F.
These common winter conditions can lead to damage or death for dormant (not actively growing) succulents:
— soggy soil (causes roots to rot)
— excess rainfall (engorges cells)
— frost (causes cell walls to burst)
Some succulents do have a built-in antifreeze. Those indigenous to the Americas, such as cacti and agaves, or to northern climates like many sedums and sempervivums, tend to fare better than those from Madagascar and South Africa (kalanchoes, aeoniums, aloes and crassulas). But no succulents want a lot of water when dormant, nor high humidity at any time of the year. All prefer well-draining soil, bright but not intense light, and good air circulation.
If you live, as I do, where frost is occasional and lasts only a few hours (Zone 9b), plan to cover vulnerable, in-ground succulents with frost cloth or bed sheets when there's a frost advisory for your area. In my YouTube video, Frost Protection for Succulents, I show how I do this in my own garden. In the foothills NE of San Diego at 1,500 feet, it's subject to cold air that settles in inland valleys. My neighbors higher-up generally get no frost at all.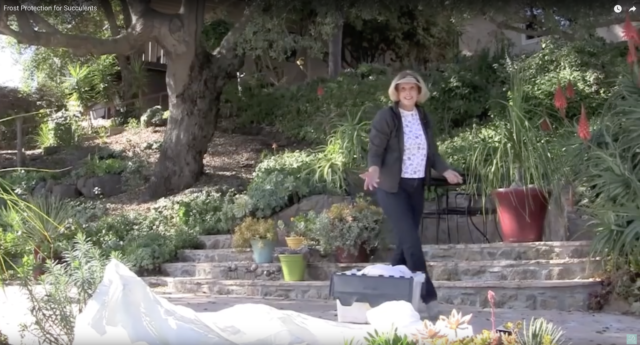 If you live in Zones 8 or lower, grow tender succulents as annuals or in containers that you overwinter indoors. These members of my Facebook community graciously shared their winter set-ups:
Pat Enderly of Virginia Beach, VA: Midwinter lows average 32 F. Pat brings her plants indoors and tucks them into shelving units she purchased online. Each shelf has a waterproof tray, and each unit is lit by two T5 bulbs. "They do a wonderful job of keeping my succulents from etiolating (stretching)," Pat says, adding that the lights, on timers, stay on from 7 am to 7 pm daily. Pat moves her succulents indoors in Sept. and Oct. and takes them outside in April.
Candy Suter, Roseville, CA (near Sacramento): Midwinter nights may drop into the 20s F but seldom go lower than 25 F. Candy moves her succulents into a small walk-in greenhouse (center) or a gazebo (right), which she covers with 5mm plastic to hold in warmth. She anchors the plastic along the bottom, secures the seams with duct tape, and adds a small heater with a fan on the coldest nights.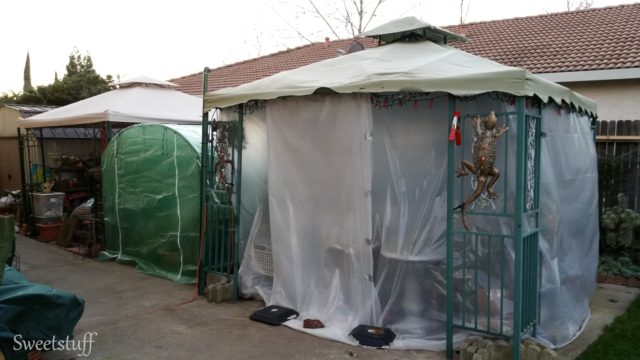 Tenaya Capron of Buffalo, TX: Although average midwinter lows hover above freezing, occasional winter lows may drop into the single digits. Tenaya and her husband built this 24×20 free-standing greenhouse, which they outfitted with exhaust and overhead fans, an overhead heater, and double sliding barn doors on either end. I love the library ladder, don't you?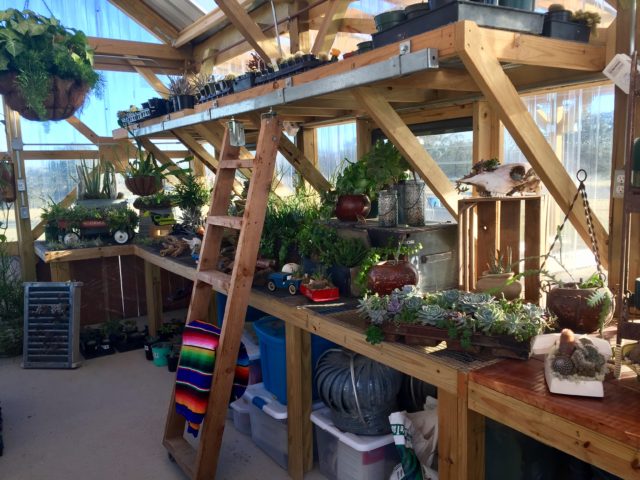 Find more info in my book, Designing with Succulents (2nd ed.):
— Cold-Climate Succulent Gardens, pp. 111-113
— Cultivating Succulents in Challenging Climates, pp. 143-148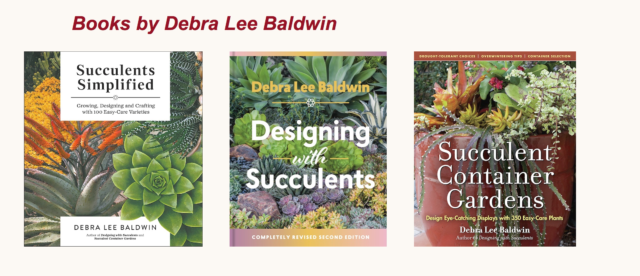 https://debraleebaldwin.com/wp-content/uploads/2017/11/Screen-Shot-2017-11-10-at-7.13.39-AM.png
1770
3230
Debra
https://debraleebaldwin.com/wp-content/uploads/2015/04/Logo-White-H200px.png
Debra
2017-11-01 15:50:59
2017-11-10 07:17:11
Four Ways to Overwinter Succulents
Every year I create a calendar for friends and family who appreciate the beauty of succulents. The main criterion for each image is that I'd enjoy looking at it for a month, so I figure others will too. Some years, creating a calendar gives me a reason (and a deadline) for painting watercolors. Otherwise, I select the best photos from thousands in my files.
Over the years, the calendar has become a top seller at Zazzle.com. Zazzle keeps 90% of the sales price, but creating a calendar is easy, the quality is excellent, and in any case, I never meant it to be a money-maker. If my earnings pay for calendars I buy to give away, I'm thrilled.
The regular price is $22. Zazzle invariably has a sale going on, but you have to get their emails to know which items and how much…unless you'd like to use this ridiculously long discount code and get 20% off:
BXKMCNRVACPHIRMHWSFX
Images in my Succulents 2018 calendar are from my new book, the completely revised and updated second edition of "Designing with Succulents". 
https://debraleebaldwin.com/wp-content/uploads/2017/10/Cover.png
982
1418
Debra
https://debraleebaldwin.com/wp-content/uploads/2015/04/Logo-White-H200px.png
Debra
2017-10-31 08:14:16
2017-12-15 19:02:44
It's My Succulents 2018 Calendar!
Events
Sorry, no posts matched your criteria