Succs in the City? So it seems. Just as ferns made Victorians swoon, succulents are seducing today's urban high-rise inhabitants. Among them is columnist Gwyneth Kelly, who specializes in edgy, controversial, shocking topics. Case in point: her recent foray into the Tinder scene. But she and I didn't talk about flesh pots. Just fleshy plants in pots.
Gwyn, a reporter/researcher with The New Republic (a Washington DC-based publication) emailed: "I'm curious to know whether you have any theories as to why the popularity of succulents has surged at this moment in time, and whether there have been other eras when they've been as popular."
I asked my publisher to send Gwyn a copy of my book, Succulents Simplified, and emailed her 11 reasons why succulents are popular: they're a good lawn alternative for regions with water shortages; are fire-resistant and fire-retardant (good perimeter plants for backcountry gardens prone to wildfire); are simple to cultivate and propagate; require minimal maintenance; range in size from ground covers to trees; have geometric shapes; add interest to gardens large and small; are intriguing year-round; come in every color including blue; produce long-lasting, vivid flowers; and new cultivars are being introduced all the time.
During the ensuing phone interview, I gave Gwyn an in-depth overview of the Succulent Explosion. Because many of her readers live in space-constrained high-rise apartments and condos, I suggested she recommend that they grow succulents in hanging glass globes. I offered as many photos as she might need.
The interview had lots of reporterly camaraderie; like Gwyn, I'm a journalist. We're both wordies. I had read one of her earlier articles and (wowsa!) learned TWO new words: dystopia and Tinder. But I couldn't help wonder if the outcome would be similar to my past experiences with reporters: An hourlong chat followed by a single-sentence quote. Not that I mind, as long as the quote is a good one. So I made a small request: "The quote that reporters seem to use most is 'People used to say they hate succulents. Now they say they love them.' So would you please use a different one?"
She did, but…
"Although succulents had been popular as easy houseplants, 'the general perception of succulents among the gardening public was that they were a poor man's plant, that they were common, they weren't what a sophisticated gardener wanted,' said garden writer Debra Lee Baldwin."
I prefer being called a "garden photojournalist and author," but I'm a writer too, so that's cool. Thankfully later on, the article mentions all three of my books. But—and reporters, please note how teeth-gnashing this is for book authors—there were no links.
I'm not complaining. Fellow logophile Gwyn is a glowing succulent convert. Plus, her article contains this gem of a word: pteridomania ("fern madness"). She used it when comparing the Victorian era's fascination for ferns to the current obsession with succulents. Doubtless I can work it into casual conversation. Hey, I've already used it in a blog post (this one).
Read Gwyn's article in the New Republic.
For a New York Magazine reporter's shocking take on the Succulent Phenomenon, see How to Kill Succulents.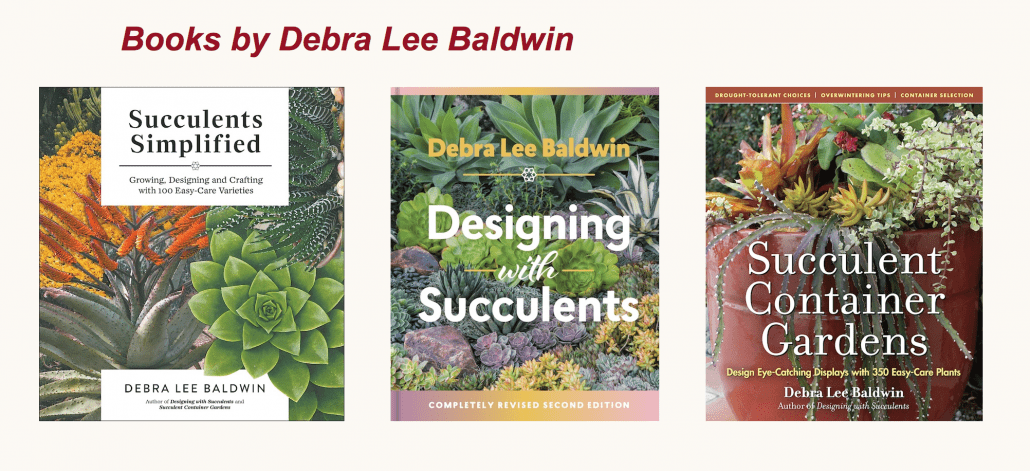 https://debraleebaldwin.com/wp-content/uploads/2016/02/Why-are-succulents-so-popular-1.jpg
400
640
Debra
https://debraleebaldwin.com/wp-content/uploads/2015/04/Logo-White-H200px.png
Debra
2016-02-17 21:41:13
2017-12-03 18:12:58
Why Are Succulents So Popular?