It's the Succulent Extravaganza!
It's the Succulent Extravaganza! Every year, this fun and enriching event is the last Friday and Saturday of September, from 8 to 4, at Succulent Gardens Nursery. Location: 2133 Elkhorn Rd., Castroville, CA 95012 (in northern CA near San Francisco, between Carmel and Santa Cruz). Free.
The annual Succulent Extravaganza, started in 2010, is one of the largest succulent-themed events in the world. Attending it is a wonderful opportunity to enlarge your knowledge of succulents, view and acquire gorgeous specimen plants, tour a premier specialty nursery, learn from expert growers and top designers, and mingle with fellow enthusiasts.
The Succulent Fanatics, a Facebook group founded by San Jose master gardener Laura Balaoro, host a display table with succulent-themed compositions made by members. It's a fun gathering spot, and everyone's welcome whether you're in the group or not. Because it's international and has thousands of members, you never know whom you might meet.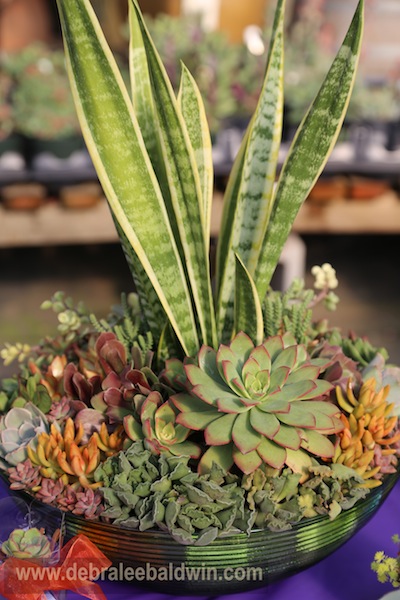 This dish garden seen on the Succulent Fanatics table, by Danielle Romero, has a sansevieria that emphasizes a lovely red-edged aeonium. Danielle and husband Michael Romero professionally design succulent gardens in the Los Angeles area.
Every year there are new things to see and numerous photo ops…
For example, who could resist having their photo taken within a special succulent frame?
Laura Balaoro is known for decorating her hat or visor with succulents. Discover out how she does it, and get design inspiration to make your own. 
This giant succulent heart was the hit of a past Succulent Extravaganza. The event originated when succulent expert Robin Stockwell owned the nursery. He has since retired, and new owners Megan and John Rodkin have continued the Extravaganza tradition with quality plants, displays and photogenic, inspirational ideas.
Horticulturist-nurseryman Aaron Ryan's propagation demonstrations typically have standing room only. Impressed by Aaron's knowledge, I did a post about it and show his methods in several YouTube videos.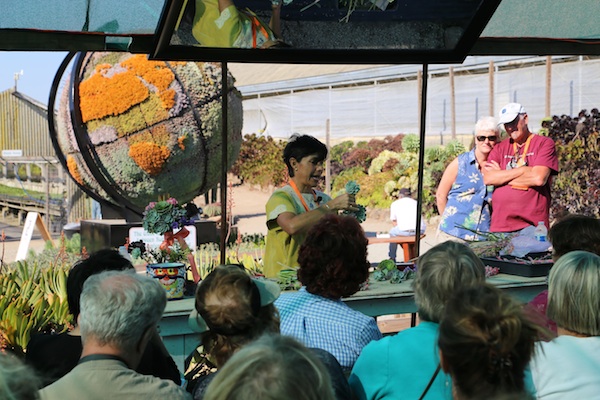 Another year, the succulent globe that Robin Stockwell made for the San Francisco Flower & Garden Show was on display. Nothing like it had been done before, and I think you'll agree it takes vertical gardens to a whole new level! In the foreground, with Robin and wife Sanne looking on, San Diego floral designer Marialuisa Kaprielian demonstrates how to wire succulent rosettes.
This may be my favorite Extravaganza photo. A young member of the Rodkin family greets visitors in front of a big succulent spiral made of sedums and sempervivums.
Related info on this site:
Related videos on my YouTube channel:
Enjoyed this article? Please share it!