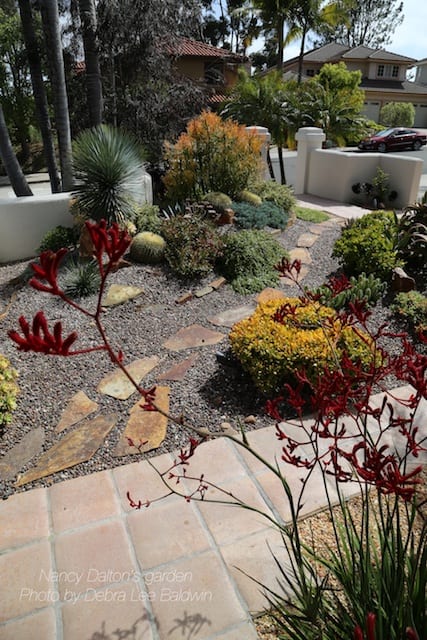 Kangaroo paws enhance Nancy's succulent garden
When Nancy Dalton emailed me that her garden had won the city of San Diego's drought tolerant landscaping contest, I was ON it. I'd visited her garden earlier during the Horticultural Society's spring garden tour, and immediately went back with my camera and camcorder. (Here's the resulting 5-minute YouTube video.)
Nancy lives in a housing development in Carmel Valley's mild, frost-free coastal climate. Landscape designers Samantha Owens of Barrels and Branches nursery and Michael Buckner of Deeter Buckner Design helped with soil amendments, plant selection, placement, and installation. Nancy's also very knowledgeable about plants and is a hand's-on gardener.
Here are a dozen lovely and practical lessons from her garden:
Combine filamented agaves with yuccas for great shape repetitions. Shapes of succulents repeat and contrast throughout the garden.
Incorporate plants that provide texture, like kangaroo paws and Agave filifera.  An agave with white filaments appears to spin.
Sculpt the terrain with berms and valleys, and incorporate a pathway or dry stream bed.
Group plants with a high element, such as Euphorbia tirucalli 'Sticks on Fire' with medium-sized succulents such as barrel cacti and variegated elephant's food (Portulacaria afra 'Variegata') and low-growing blue Senecio mandraliscae or Othonna capensis.
Position cacti and yuccas, which are native to the desert Southwest, atop mounded soil so water doesn't collect around their roots.
A fountain near a sitting area blankets neighboring noise and creates a sense of serenity.
Have an herb garden in a grouping of large terracotta pots. This keeps the plants under control (some, like mints, are invasive) and makes them easy to water, tend, harvest, or replace. Herb garden in containers
Contrast cobalt blue pots with bright orange coppertone stonecrop (Sedum nussbaumerianum). Blue and orange succulents create dramatic contrast
Lend interest to a blank wall with three brightly-glazed pots containing a tall, columnar cactus, a mounding euphorbia, and Agave lophantha 'Quadricolor', which has a starburst look. Vivid pots contain sculptural succulents
Grow small agaves (such as A. 'Quadricolor', A. victoriae-reginae, and A. colorata) in pots; midsized ones (such as A. 'Blue Glow' and A. potatorum) in the ground, and avoid those (such as A. americana) that get too large and pup excessively. A geometric potted agave sits alongside the front door.
To create the look of rushing water in a dry creek bed, line it with cobbles turned sideways. A dry stream bed "flows" through the succulent garden.
Top-dress bare soil with gravel to lend a finished look and to help hold moisture in the soil.
Many thanks to designers Michael and Jenise Deeter for these "before" photos of Nancy's front yard: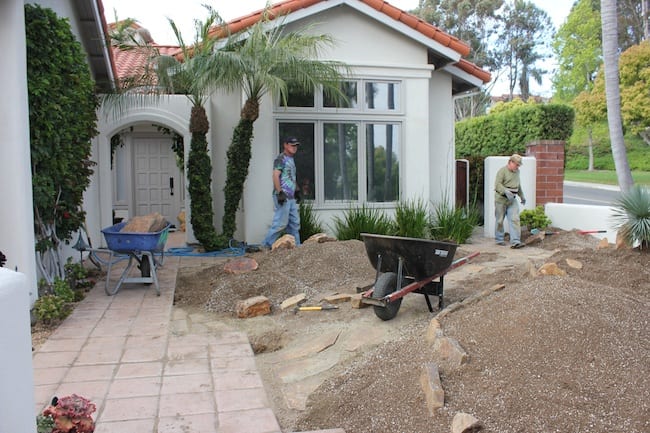 https://debraleebaldwin.com/wp-content/uploads/2016/05/IMG_5965annotated_resized.jpg
640
427
Debra
https://debraleebaldwin.com/wp-content/uploads/2015/04/Logo-White-H200px.png
Debra
2016-05-06 11:05:33
2017-09-24 17:48:27
Nancy's Award-Winning Succulent Garden