Welcome to my jade plant page! Commonly called "jades," these succulents are in the genus Crassula. These include shrub (branching) varieties as well as "stacked crassulas" which look nothing like typical jade plants, but rather have leaves stacked tightly atop one another along stems often as slender as dried spaghetti. Crassulas are among the easiest, most trouble-free succulents to grow, with one caveat: With few exceptions, they're frost-tender (tend to be damaged when temperatures drop below 32 degrees F). Shrub varieties are very easy to start from cuttings, and stacked jades will send forth whiskery roots from between their tight leaves—simply snip off the stem and bury in potting soil so that roots are covered (it's OK to bury a few leaves too). Crassulas, like aloes, also stress beautifully to shades of red, yellow and orange. Give variegated varieties adequate sun or they'll revert to solid green.
Jade cuttings are ideal for succulent wreaths, and economical. Instead of buying cuttings online (which can be terribly expensive), go to any nursery or garden center and get several half-gallon pots of jade—ideally Crassula ovata cultivars (see photos below). View my article on this site: Make a Succulent Wreath, Step-by-Step.
For more information, see the Crassula sections of my books Succulents Simplified and Designing with Succulents.
You're welcome to download and use any of these photos, providing the watermark is intact. Enjoy! — Debra Lee Baldwin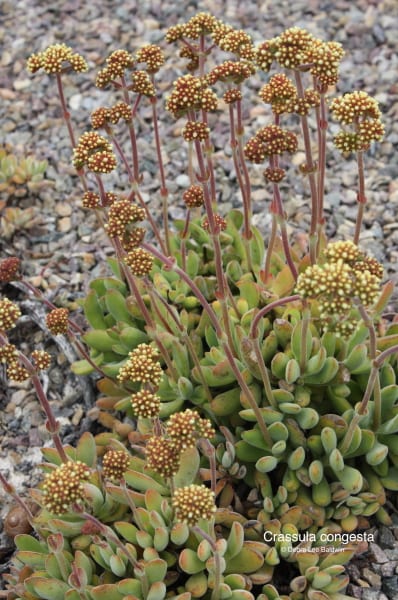 I've ID'd the above to the best of my knowledge. If you disagree with any of the names, I definitely want to know. Please leave a comment or email me. Thanks! Debra
---