MAKE YOUR OWN Succulent Bouquets
12 Succulent Bouquets to Inspire You ~ When wired onto faux stems, succulent rosettes—despite having no roots, soil or water—make long-lasting floral bouquets. Echeverias, graptosedums, crassulas and kalanchoes lend themselves beautifully to bouquets because of their colorful leaves and floral shapes. They're easy to attach to stems, need no water (because they live off moisture in their leaves), look…
Here's how to make a succulent-decorated hat and other projects, with design ideas from attendees at succulent events. Wearing succulents at succulent-themed events is a great ice-breaker. Everyone wants a photo of you. The easiest way to attach cuttings to a hat brim, visor, hair ornament or bracelet is with the moss-and-glue method pioneered by San…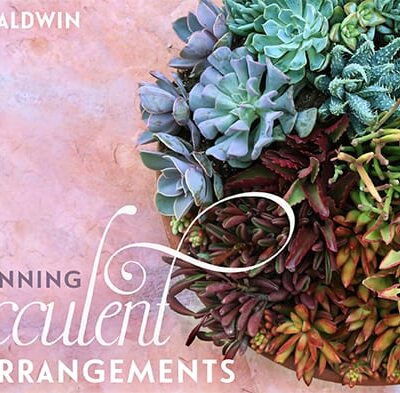 Stunning Succulent Arrangements An Online Class by Succulent Expert Debra Lee Baldwin My succulent design class, Stunning Succulent Arrangements, brings you the highest quality online learning at an extremely reasonable price. I'm proud that its success has been outstanding in the US and beyond. My partner in this endeavor, Craftsy (aka Bluprint) spent upwards of $15,000 to…
where to get plants and cuttings
Buy & Shop for Succulents Online My recommended, go-to sources for succulents online Looking for my online gift-and-decor store? Go to Succulent Chic!  Succulent Growers I recommend Wondering where to shop for the best succulents online? Start with these top growers. There's quite a bit of overlap, which is fine; all provide quality. For outstanding…
Mini Succulent Landscape in a Fire Pit (7:40)
See step-by-step how to create a mini mountain scene using a repurposed fire pit, miniature buildings, succulents that resemble much larger plants, crushed rock, a mirror for a lake, and upright pieces of flagstone.
Plant a Succulent Gift Basket with Echeverias(3:28)
Plant a basket with lovely echeverias to enhance an outdoor sitting area, as a tabletop centerpiece, or to give to a succulent-loving friend. These blue and purple rosette succulents are especially beautiful when massed, and as such, serve as a living, low-water, low-maintenance bouquet.
How to Make Cacti Resemble Cupcakes (3:07)
You've seen cupcakes that look like cactus? Well, here are cacti that look like cupcakes! Why not showcase both at a gathering of succulent friends? Little domino cacti (echinopsis) make perfect party favors. Each is nestled in a waterproof silicone cupcake liner and has a faceted "cherry" on top. Tan sand suggests cake.