Planning your visit
You might easily spend a week or more touring San Diego's terrific succulent nurseries and destinations. Each has a distinct character, so as you winnow your selection, do read the descriptions and see the videos.
Larger (multi-acre) nurseries tend to be east or north of downtown because land is more affordable away from coastal and urban areas. Due to unpaved paths and hot sun, wear a hat, sunscreen and closed-toed shoes. Bring drinking water.
Small specialty growers may charge to give a tour (especially if they're one-person operations), but the fee can usually be applied to purchases.
Some may close close during heat waves, high winds or rainy weather. Also, if it says "by appointment only" and you don't call first...well...you may be greeted by large barking dogs and a locked gate.
Hours and days of operation change, so visit websites or social media pages before heading out.
If a nursery isn't set up for shipping and you're unable to transport plants, box and ship them to yourself as cuttings (no soil). Agricultural regulations may require a phytosanitary certificate.
Check this page often. More are continually being added, thanks to a surging demand and ideal climate. And occasionally, some close.
Headed farther north? Scroll down for beyond-San Diego destinations.
* Those with an asterisk are must-sees if you...
only have a few days
want an hour or more of memorable exploring
prefer a location that's easy to find
have a companion indifferent to succulents but likely to enjoy a great setting with lots to see.
Looking for a particular plant?
If you find that nurseries listed here don't answer their phones, check their messages or return calls, it's probably because they're understaffed and can barely keep up with walk-in traffic.
A work-around is to consult a succulent personal shopper. Tari Colbry, for example, frequently visits retail and wholesale nurseries and growers and knows what they carry.
San Diego Nurseries and Destinations
Please tell nursery managers or owners that Debra sent you!
In or near downtown San Diego
-- Pigment floral boutique and design shop, three locations: North Park, Pt. Loma and Del Mar. Clientele are urban professionals who love plants but have limited space for gardening. Known for succulent terrariums and a plant-your-own potting bar. See my video: Visit Pigment, San Diego's Chic Succulent Boutique 
*-- SD Cactus & Succulent Society semiannual shows and sales: winter, 2nd weekend in Feb; summer, 1st weekend in June. Casa del Prado Room 101, Balboa Park. Worth planning a trip around. On display are hundreds of award-winning specimens. For sale are rarities from renowned growers, topdressings and collectible art pottery. See my videos: Succulent Shopping at the Show, Succulent Pot Shopping, and At the San Diego Cactus & Succulent Show.
--Scripps Coral Reef Garden, 8755 Biological Grade, La Jolla. This tucked-away, streetside installation within sight of the ocean suggests a snorkeling adventure. It's planted with succulents that resemble undersea flora. Located on the Scripps Institute of Oceanography campus in front of the Eckart Building. On weekends, park next to the Naga Entrance to the campus or along La Jolla Shores Drive. On weekends, park at the Birch Aquarium and walk down (Note: going back up is strenuous!)
-- Public garden along the canyon east of Balboa Park, adjacent to Park Blvd. & Zoo.
East County
-- Exotic Gardens, 14269 Olde Hwy 80, El Cajon. Owned by long-time succulent expert Carl Dykema.
-- Hunter's nursery, 3110 Sweetwater Rd., Lemon Grove. Family-owned for 50 years; full-service nursery.
-- Public garden: Water Conservation Garden 12122 Cuyamaca College Dr. West. Display gardens and waterwise landscaping ideas.
-- Planter Paradise. 1146 East Chase Avenue, El Cajon; 619/440-6563. Huge inventory of imported pots at bargain prices. Small on-site succulent nursery.
North County inland
Bonsall
*-- Waterwise Botanicals, 32151 Old Hwy 395. Manager: Tom Jesch. Extensive selection of succulents and low-water plants mainly for in-ground gardens and landscapes. Good aloe source. Lovely display gardens. Look for catfish and turtles in the two ponds. Site of the original Succulent Celebration, and more recently "Free Succulent Saturdays" that have a festive air with food trucks and vendors. Now open daily.
Escondido
-- Desert Theater, 9655 Kiwi Meadow Lane. Nine acres of landscape succulents and thousands of large specimens. Go midwinter when the aloes bloom. BY APPOINTMENT ONLY: call owner Brandon Bullard, 760/594-2330. Mainly wholesale, so if possible, take your landscape designer. See my videos: Discover Large Landscape Succulents  and Spectacular Aloes in Flower
-- Oasis Water Efficient Gardens, 10816 Reidy Canyon Trail. Outstanding selection of succulents for containers and small gardens. Owned by Altman Plants, the largest grower of succulents and cacti in the US (they supply Lowe's & Home Depot). The location is rural and the signage faded; getting lost trying to find Oasis is a rite of passage. Go north on N. Broadway and turn left on Reidy Canyon Trail. Ahead is a gate that goes into Altman's growing grounds. Just before you get to it, turn right onto a lane that leads through another gate into the retail nursery. Manager: Carmen Contreras. Closed Sunday and Monday. Open Tuesday-Saturday, 8 am to 2 pm. My videos filmed at Oasis include: How to Select the Right Succulent for Your Pot; Pete Checks the Shelves; Find or Become a Succulent Personal Shopper; and How to Pick Succulents for Special Pots.
*-- Public garden: San Diego Zoo Safari Park, 15500 San Pasqual Valley Road (35 mi. north of the San Diego Zoo). Baja and Old World Succulent gardens are proudly tended by C&SS volunteers. See 200 species of succulents and the largest collection of boojum trees outside of habitat. Aloes blaze in midwinter in the park's Africa section.
-- Hidden Agave nursery. Horticulturist Jeremy Spath offers collectible, desirable Agave species and hybrids via mail and at his home nursery by appointment. See my video: Hidden Agave Nursery: Stunning Succulent Rarities.
Fallbrook
-- Rare Succulents. Collectible, greenhouse-grown cacti and succulents cultivated with German precision by renowned succulent horticulturist Petra Crist. By appointment, 562/618-7250. Shipping available. See my video.
-- Rojas Succulents. 2005 E. Alvarado; 760/271-4962. Closed Sunday. Carlos, son of founder Rosalina Rojas, manages the 1-1/2 acre specialty nursery. Known for uncommon garden succulents, variegates and collectible rarities. See my article: Rojas Succulents Nursery Tour and video.
-- Silverthorn Ranch, 1826 Alturas Rd. Owner Wayne Loomis' family has grown cactus in CA since 1942. He now has eight different growing grounds on 50 acres with 200,000 square feet of greenhouses. Silverthorn is known for Yucca rostrata 'Blue Velvet', giant Dracaena draco, golden barrels, rare aloes and Arizona saguaros. The nursery is wholesale, but "we will entertain wholesale to the public by appointment," Wayne says. Call or text him at 760/535-9824.
Ramona
-- Gnosis Nursery, 663 Highway 78. GnosisNursery@gmail.com. 480/363-4460.  9 to 6 Friday-Sunday and by appointment. Owners Megan Escalona and Dean Karras sell succulents suited to Southern California's inland areas.
-- Peter Walkowiak, PW Plants Exotic Plant Sales & Landscape Design. 404 Lor Lar Lane. Seed-grown caudiciforms, unusual succulents and cacti. Peter is a legend in the C&SS for his tireless service and award-winning, rare and collectible specimens. BY APPOINTMENT ONLY. Call first: 858/382-1797. See my video.
Rancho Santa Fe
*-- Rancho Soledad Nursery, 18539 Aliso Canyon Rd., Rancho Santa Fe. Twenty-five acres of succulents and tropicals for garden beds and landscapes. Offer pottery and their own proprietary potting soil made with 50% pumice. Known for aloes.
San Marcos
-- Javier Flowers & Garden, 1970 N. Twin Oaks Valley Rd.; 760/591-0271. Open daily. Maria and Javier have long been my go-to for cut flowers and flowering perennials. Recently this mom-and-pop florist-nursery on 11 acres has beefed up their inventory of easy-care succulents perfect for landscapes. Great selection and prices.
Vista
-- Grigsby Cactus Gardens, 2326-2354 Bella Vista Dr; 760/727-1323. Collectible cacti and succulents. Mostly mail order; hours are limited. One of the oldest succulent specialty nurseries in the San Diego area, Grigsby has seen better days, but it's worth visiting to see the large specimens growing on the property, and to shop for unusual plants and rarities in the retail greenhouse.
-- Nursery Outlet and produce stand, 908 Buena Creek Rd. CLOSED as of May, 2023. 
North County coastal
Cardiff
Public library landscaping at 2081 Newcastle Ave. is by Jeremy Spath of Hidden Agave Nursery (above).
Carlsbad
--Succulent Café, 505 Oak Ave, Carlsbad, CA 92008 CLOSED as of March, 2023.
*-- Public garden: Meditation Gardens at the Self Realization Fellowship, 215 K St., (between 2nd and 3rd streets). The lush, immaculately tended garden is tropical but does include succulents, plus breathtaking ocean views and soothing water features. Come prepared to be quiet, observant and respectful. Food and drink not allowed.
Del Mar
Public library landscaping at 1309 Camino Del Mar is by Jeremy Spath of Hidden Agave Nursery (above).
Encinitas
-- Barrels & Branches, 1452 Santa Fe Dr. Idea-packed nursery in a lovely setting. Hosts events, classes and workshops and offers design services.
-- Moonlight Beach, 400 B St. Noteworthy private succulent garden across the street.
*-- Public garden: San Diego Botanic Garden, 230 Quail Gardens Dr. The underwater-themed succulent garden designed by Jeff Moore and the late Bill Teague is near the administration offices, south of the main parking lot. Succulent plantings by region are northwest of the main parking lot. The SDBG hosts North County's Palomar Cactus & Succulent Society's annual show & sale the 4th weekend in Oct.
-- Weidner's Gardens, 695 Normandy Rd. Good source of Kalanchoe blossfeldiana (numerous floral colors), succulents for containers and garden beds, and tillandsias. See my video and post about the nursery's succulent display garden.
Leucadia
*--Gardens by the Sea, 1500 North Coast Highway, 760/840-0270. Design ideas; garden vignettes, outdoor art, pottery, and succulents that thrive in this ideal coastal climate. Good source of ornamental rocks and topdressings for container gardens. Note: Despite rumors, the nursery is not closing.
Oceanside
-- Plantplay Gardens Design Center, 1839-A South Coast Highway, Oceanside. Owner/designer Sergio Regalado. Also tropicals, Australian and New Zealand plants. Landscape design. Daily 9 to 7.
Solana beach
-- Solana Succulents, 355 N. Hwy 101. Additional parking in back (off the alley). Jeff Moore, a renowned designer, horticulturist and author, has owned this small nursery for decades. It's crammed with interesting plants. Retail space is small, but he can obtain larger specimens for landscapes. See video.
Southern CA: Farther North
NOTE: If you're aware of a resource that should be included or updated, or you've had an exceptionally positive or negative experience with any of the above, please let me know. Thanks! – Debra Lee Baldwin
Related info on this site
Find out what to do if the succulents you want aren't available near you. See others' favorite succulent sources, mail-order and walk-in, and share yours in the comments below. Please tell us your city or region, what you've purchased, and anything else that might be helpful.  
If you're looking for a great succulent nursery to tour, head for family-owned Rojas Succulents on 1-1/2 acres in Fallbrook, CA. They do everything right. Superb plant material ranges from garden succulents to collectible rarities, including unusual variegates (striped or multicolored leaves).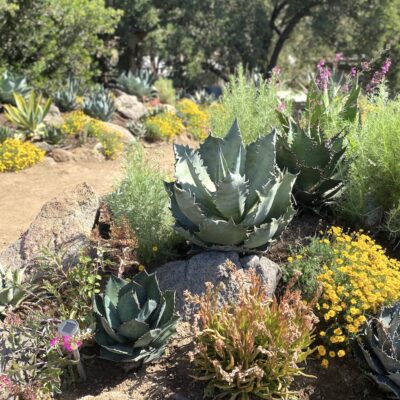 Hidden Agave Nursery is more than a source of rare and unusual agaves, it's fast-tracking this popular succulent genus to its full potential. Owner Jeremy Spath specializes in species and cultivars that don't get overly large, perform well in gardens, and are exceptionally beautiful. I share his fascination with