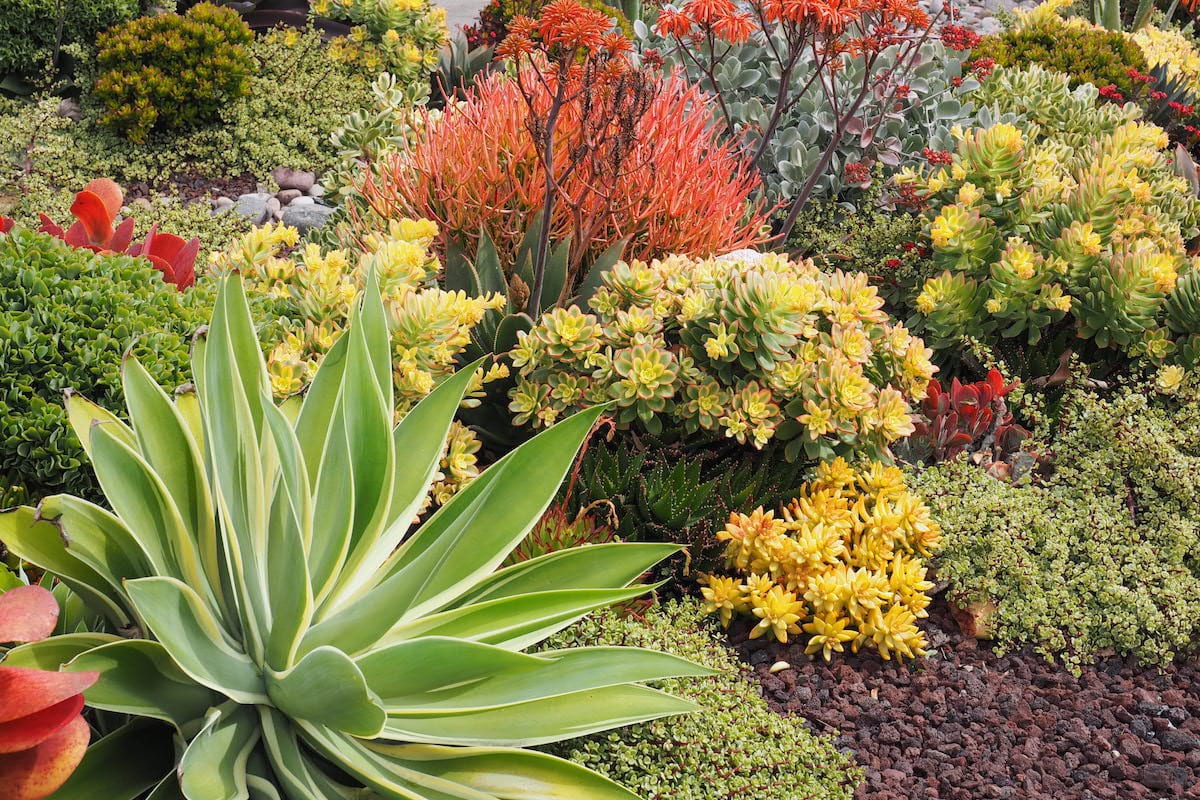 A Colorful Succulent Garden to Copy
You could easily copy this colorful succulent garden at Weidner's Gardens nursery in Encinitas, CA. It's a three-dimensional showcase of succulents superbly suited to mild, frost-free regions. Most of the plants are readily available, and all are in my book, Designing with Succulents. 
I do wonder, though, if visitors who exclaim over it are aware of important aspects that are not immediately obvious. You might not notice, for example, the way the grade varies. A garden that's flat is not as interesting, visually appealing and natural-looking. Creating berms also is practical: It lets you bring in good soil.  Simply mound it atop existing hard-packed, nutrient-deficient dirt. You'll find digging and planting much easier, and roots will thank you.
The long, narrow garden began when Laura Eubanks of Design for Serenity came to Weidner's to do a succulent planting-and-design demo. The result inspired the nursery's on-staff succulent expert Sabine Hildebrand to continue the garden from the entrance to the corner---a distance of about 50 feet.
The dry creek, slightly below grade and flanked by planted mounds, meanders instead of being ramrod-straight, and---as shown in the video---it connects with a culvert that gives it a "reason" to be there.
Swaths of crushed lava rock fill gaps, help keep weed seeds from germinating, hold moisture in the soil, and make plants easier to access for deadheading and pruning.
Labeled photos from my video
I recently released a YouTube video that takes you on a narrated, four-minute tour of Weidner's Colorful Succulent Garden. I labeled most of the plants, so if you've come here from there, you're at the right place. You'll find those same images below.
Learn more in my YouTube video: "Weidner's Colorful Succulent Garden." And if you're ever near Encinitas, CA (about 40 minutes north of San Diego), do visit Weidner's and enjoy the nursery in person!
Succulent Garden Design Essentials How to design and plant your succulent garden. To ensure your success and help you avoid mistakes, here are a dozen succulent garden design essentials to keep in mind. Many thanks to homeowner Nancy Dalton, whose award-winning succulent garden in San Diego is an example of smart landscaping for Southern California. …
Enjoyed this article? Please share it!