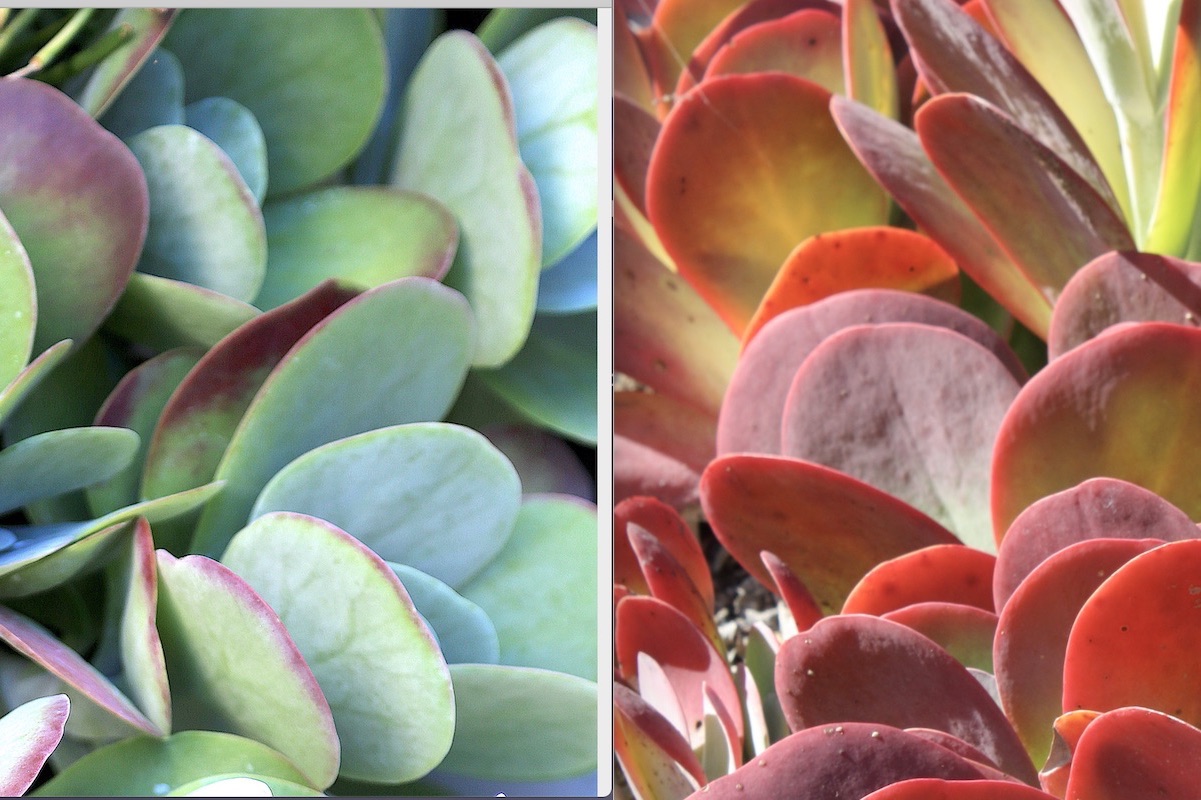 Are Your Succulents Well Stressed? 50 Before-and-Afters
"Stressing" a succulent doesn't harm it, but rather enables the plant to show the colors it's capable of. When a succulent is "well stressed," it has turned from green, blue-green or blue-gray to shades of red, orange, yellow, rose or purple.
Stressing happens naturally yet is also an art form. You can stress plants deliberately, but you don't want to overdo it. Here I explain what you need to know and to expect.
Whether you can make a succulent "color-up" depends on your region, climate, the season, type of plant, and where it's located in your garden. Sun is essential; stressing is difficult to do indoors.
Scroll down for a gallery of 50 different succulents, that shows you how each looks before and after stressing. A case in point is Aloe nobilis, below.
Certain succulents routinely color-up in summer and revert to green in winter, after the weather cools and the rains return.
Not surprisingly, when confronted with too much sun, a succulent tightens up to protect its vital inner core. Learn more about how succulents respond to sun here on my site: How Much Light Do Succulents Need? 
Which Ones color-up?
Not all succulents turn color. Most aloes and crassulas will stress beautifully, but only a few kinds of kalanchoes, echeverias, euphorbias, sempervivums, sedums, aeoniums and echeverias also do so.
Agaves typically don't, but they may redden when dying, as shown by the flowering specimens below.
When stress is too much
Most succulents---especially those with fat, fleshy leaves---can last weeks and sometimes months without water, even in hot sun, nipped by frost, and/or rooted solely in gravel. But eventually they'll need a respite, lest stress turn life-threatening.
The importance of pigment
It's truly amazing how plants survive in the open garden, considering they have no way to head for cover. Consider: Succulents adapt to strong sunlight that would redden and blister human skin.
Just as deciduous trees turn color in autumn, sunset hues become visible in aloes and other succulents as they respond to potentially harmful amounts of sun, heat and cold.
Green (chlorophyll) gets replaced by red (anthocyanin), orange (carotene), and yellow (xanthophyll). These are comparable to melanin, the brown pigment that protects human skin from UV rays.
The art of stressing
After watching my YouTube video, "How to Stress Your Succulents...and Why You Should," a friend observed, "I'd probably stress them so much, they'd croak." Good point. How do you give a succulent a tolerable amount of stress, but not too much? And how do you know which are worth stressing, and which aren't?
Observe your plants. If leaves are margined or tipped in red, they're likely prospects. But if excess heat, sun or cold makes tips shrivel and beigey-gray patches appear on leaves, the plant is suffering. Move it to a kinder location, keep soil moist (but not soggy), and check its roots. It may be stressed in a life-threatening way because roots can't access moisture and nutrients---sometimes noticeable in cuttings that aren't snugly planted but rather sitting atop the soil.
Above: Leaves of Crassula ovata (jade plant) have reddened due to less water and more cold than the plant prefers. Btw, frost will turn jade leaves to mush, but temperatures near freezing merely reddens them.
When a colorful succulent turns green, it's said to "revert." This is especially noticeable with jade. Bring home a red-, yellow- or orange-leaved jade, give it too little sun, and in a few weeks it'll be green, with larger leaves and branches that have spread a bit to let in more light.
Gallery: 50+ Common succulents that redden when stressed, before and after 
---
Related Info on this site
How much light do your succulents need? It depends on the type of plant and where you live. Most haworthias and gasterias prefer shade but can handle some sun along the coast. Many but not all cacti are fine in full desert sun. As a general rule, the majority of soft-leaved succulents want half a day's sun (in mild climates) and dappled or "bright" shade.
Enjoyed this article? Please share it!
Don't let summer sun and heat harm your succulents! Heat generally isn't a concern. Although some succulents (like sempervivums) tend not to thrive in temps above 80 or 90 degrees F, the majority are fine. It's heat plus sun that's the concern.
Enjoyed this article? Please share it!
It's easy to plant a pot with colorful rosette succulents that makes people gasp when they see it. A sure-fire way to make one appealing is to combine succulents that are similar yet different
Enjoyed this article? Please share it!
Enjoyed this article? Please share it!