Here are ten reasons why your landscape—especially if it includes succulents—really needs rocks, large and small.
Remember when crushed-rock front yards were a '60s retirement-community cliche? Not any longer! Nowadays smart designers cover bare soil with rocks to create gardens that are as sophisticated and good-looking as they are practical.
"Before" photo of driveway planting
Driveway garden, "after" (newly installed)
In my video, Van Liew Garden Redo, San Diego landscape designer Steve McDearmon explains how he installs succulents amid swaths of warm-toned Mojave Gold gravel, Hickory Creek rubble rock, and Honey Quartz boulders (all from Southwest Boulder and Stone). Though subtle, the rocks are as important as the plants.
Reasons for rocks:
— They need no maintenance and look the same forever.
— They contrast texturally with walls, pavement, and plants.
— They add color and cohesion to a landscape.
— They moderate soil temperature, keeping it warmer in winter and cooler in summer.
— They hold moisture in the soil and inhibit evaporation.
— They prevent erosion by diffusing the impact of rain.
— They give a garden a finished look. (Doubtless you already know that topdressing is important for containers. The same is true of gardens.)
— They're visually intriguing, especially when several sizes combine.
— When used to create flowing lines in the landscape, they lend design interest and emphasize focal points.
— By shading the soil, they prevent weeds from germinating. (And any that do pop up are easier to pull.)
Aloe glauca
More Info on This Site: 
Succulent Garden Design Essentials
Nancy Dalton's award-winning succulent garden in San Diego is an outstanding example of smart landscaping for Southern California's arid climate. Enjoy it's many pleasing and practical aspects and keep these dozen ideas in mind as you design and plant your own garden… [Continue reading]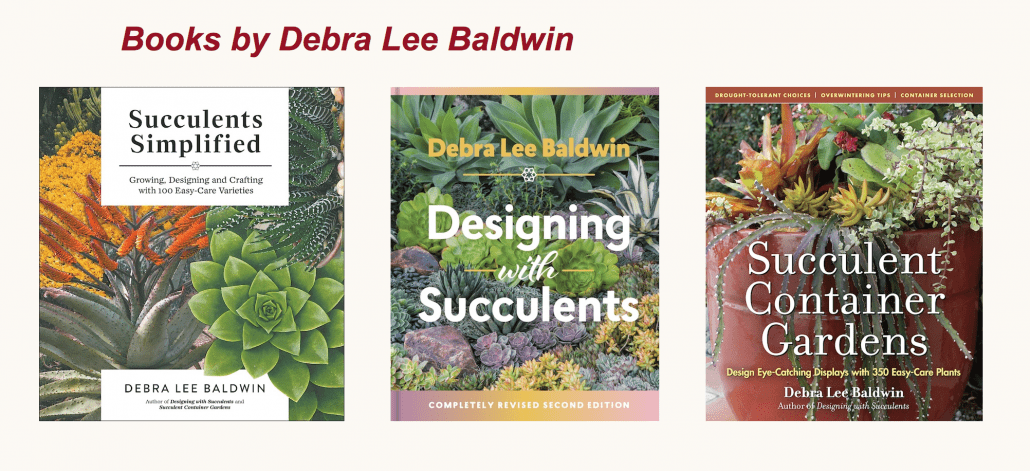 https://debraleebaldwin.com/wp-content/uploads/2017/08/IMG_3121_E.jpg
488
650
Debra
https://debraleebaldwin.com/wp-content/uploads/2015/04/Logo-White-H200px.png
Debra
2017-08-31 16:23:46
2018-07-16 19:11:06
Ten Reasons Why You Really Need Rocks