Rain at last!
Could the California drought finally be over? Well, no. It'll take hundreds of years for underground aquifers to refill. The snowpack isn't adequate for our future water supply. On the bright side, our gardens are looking glorious…even those with mainly drought-tolerant plants. Perfect conditions for succulents are good drainage, annual rainfall less than 20 or 25 inches, low humidity, and temperatures above freezing.
Check for:
— Succulents with rotted leaves. Remove mushy leaves before rot spreads to the plant's stem or crown. 
— Drainage issues. If soil stays sodden and muddy areas remain long after a storm, roots may drown. Move plants to high ground, and install French drains.
— Slope erosion. Create dams of rocks and diversion channels, and add gravel or mulch to diffuse the rain's impact.
— Stagnant water. Check pots, bins and barrels. If they've filled, dump the water before mosquitos find it and breed.
— Weeds. Wherever soil is exposed to sun, weeds WILL sprout. Get them when small. All too soon they'll have deep roots, go to seed, and look you in the eye.
— Seepage. Check your home's basement. Mine used to have an inch or two of standing water whenever the ground became saturated during storms. A few years ago, a friend suggested a simple solution: Coat the concrete blocks that form the basement's walls with a special paint that prevents seepage. Works great. Any home improvement store carries it.
— Shop for plants.  Now's a good time to accumulate plants you want to add to your garden. Rain-soaked ground is soft and easy to dig. Early spring is the best time to establish new plants, after all danger of frost has passed (here in Southern CA, that's mid-March). Plants will take off in spring and won't have to contend with summer heat while putting down roots. Don't delay; if your garden is like mine, when the soil dries, it'll be as hard as concrete.
— Take photos as what-to-do reminders. When the weather clears, such issues are easy to forget.
The bottom line: Succulents are opportunistic when it comes to rain. Given adequate drainage, they absolutely love it!
Related info
On this site:
How to Water Succulents These fleshy-leaved plants from hot, dry regions are designed to live off water stored in their leaves and tissues in order to survive periods without rainfall. But this doesn't mean you shouldn't water them at all…[Continue reading]
Prepare Your Succulents for Rainstorms  Succulents, which come from arid climates, may rot. Stems or trunks turn squishy and collapse. It may be possible to… [Continue reading]
Learn about pumice. No other soil amendment is as widely used by succulent growers and collectors as pumice (crushed lava rock). Here's why…[Continue reading]
Succulents and Too Much Rain, A French Solution Want to protect your succulents from too much rain? Here's how the Jardin Zoologique Tropical in southeastern France…[Continue reading]
Oh, No, My Succulents Froze!  Will succulents recover from frost damage? It depends. Here's how frost-tender succulents looked before temps dropped into the mid-20s F, and after…[Continue reading]
Winter Protection for Succulents: Products  Soggy soil, dim light, high humidity and freezing temperatures can be death to succulents native to warm, arid climates. These items will help you get your succulents through cold, wet North American winters…[Continue reading]
On My YouTube channel: 
Why Succulents Rot and How to Prevent It
Why Rain is Good for Potted Succulents
Post-Rain Must-Do's for Succulent Gardens
---
All the info you need, all in one place: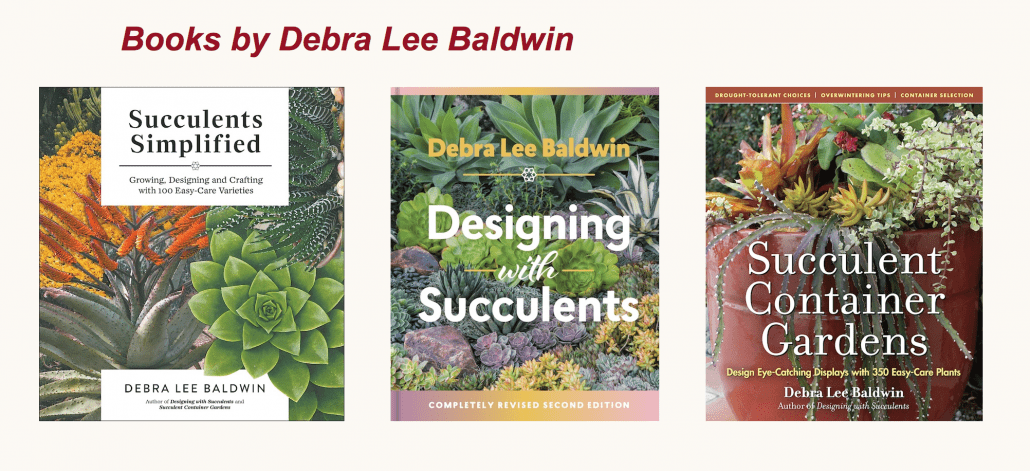 https://debraleebaldwin.com/wp-content/uploads/2017/02/Rain-on-cactus3_A_R.jpg
650
650
Debra
http://debraleebaldwin.com/wp-content/uploads/2015/04/Logo-White-H200px.png
Debra
2017-02-09 21:24:43
2018-12-05 09:37:37
Your Succulent Garden After a Rainstorm, Checklist