Circular Succulent Garden
When I first saw fitness coach Amy Van Liew's circular garden and spherical fountain, I envisioned how it might look replanted with colorful succulents. A great fountain and garden bed deserve to be seen, especially when in the middle of a magnificent home's entryway.
In the spring, when I took this photo of Amy, the flowers in the circle garden were impressive. However, aeoniums bloom once and then die. As you can see, they had already become leggy, and other plants (notably Sedum rubrotinctum) were overgrown and ratty. Moreover, the nearly concealed fountain was home to tadpoles.
Amy and husband Ed agreed it was time for a re-do. So, six months later, we created a new circular garden of succulents for the entry.
The basin now is filled (and concealed by) aqua-colored crushed rock that suggests water. This appears to overflow and create rock rivulets between planted areas that are top-dressed with pea gravel in a contrasting orange hue.
Project sketch and plant choices
Each of six sections for the circular succulent garden features a different kind of plant. We chose six of each kind, all in one-gallon pots, and all from Waterwise Botanicals nursery in nearby Bonsall, CA. Some have rounded leaves or a globular form that repeats the fountain's. Except for one, all are succulents.
Sedum 'Firestorm' is a ground-cover succulent with red-orange leaves massed with clusters of tiny white flowers in spring.
Echeveria 'Sahara' is a new cultivar bred to be heat-tolerant, and therefore is suitable to a climate with summer temps in the 90s. It has a circular shape, lavender-pink-blue coloration, and produces dainty flower stalks in autumn.
Yet more circles can be seen in the leaves of Portulacaria afra 'Minima', a cultivar of elephant's food. 'Minima' is a low-growing, heat-tolerant, ground-cover succulent with bright green foliage and red stems.
Blue fescue took the longest to become established—which is why I postponed showing the finished garden. This ornamental grass is doing great; it's just s-l-o-w. As you can see, it has a mounding growth habit and slender, threadlike leaves that are truly blue.
Amy had had good luck with flapjack plants (Kalanchoe luciae), so we used them again, this time massing them for effect. A bonus is that their red-edged leaves are rounded—yet another echo of the fountain.
But nothing so perfectly repeated the fountain as these globular barrel cactus. I was pleased Amy wanted them; many people don't because the plants are so spiny. But barrel cactus is not difficult to handle if you know how. The spines curve downward, so they're not treacherous unless you push on them the wrong way (upward).
After installation
Here's how the circular succulent garden looked when finished last fall.
And how it looks now, six months later.
To see highlights of the installation, watch my 5-minute YouTube video, "Circular Succulent Garden Start to Finish." The entire project took about two days, including time spent rounding up plants and materials.
See my video of the Van Liew garden redo by landscape designer Steve McDearmon, and my blog post "Ten Reasons Why You Really Need Rocks."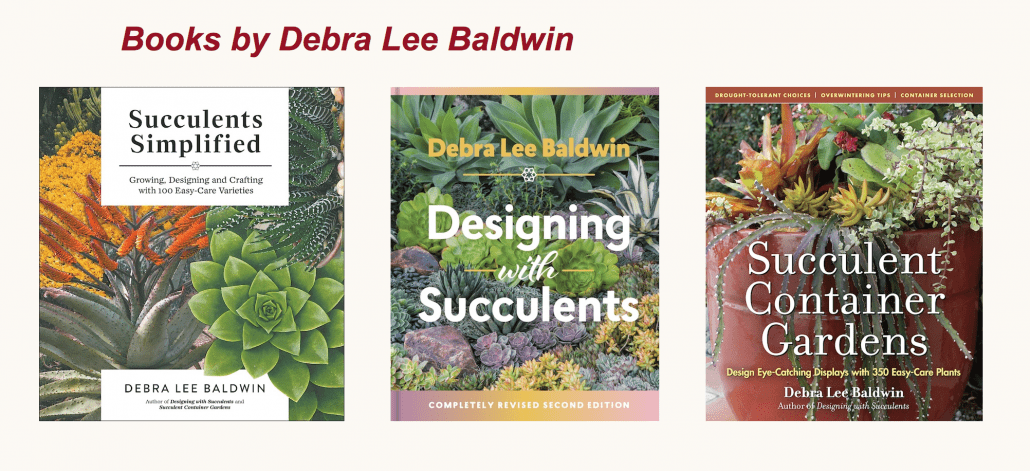 Enjoyed this article? Please share it!