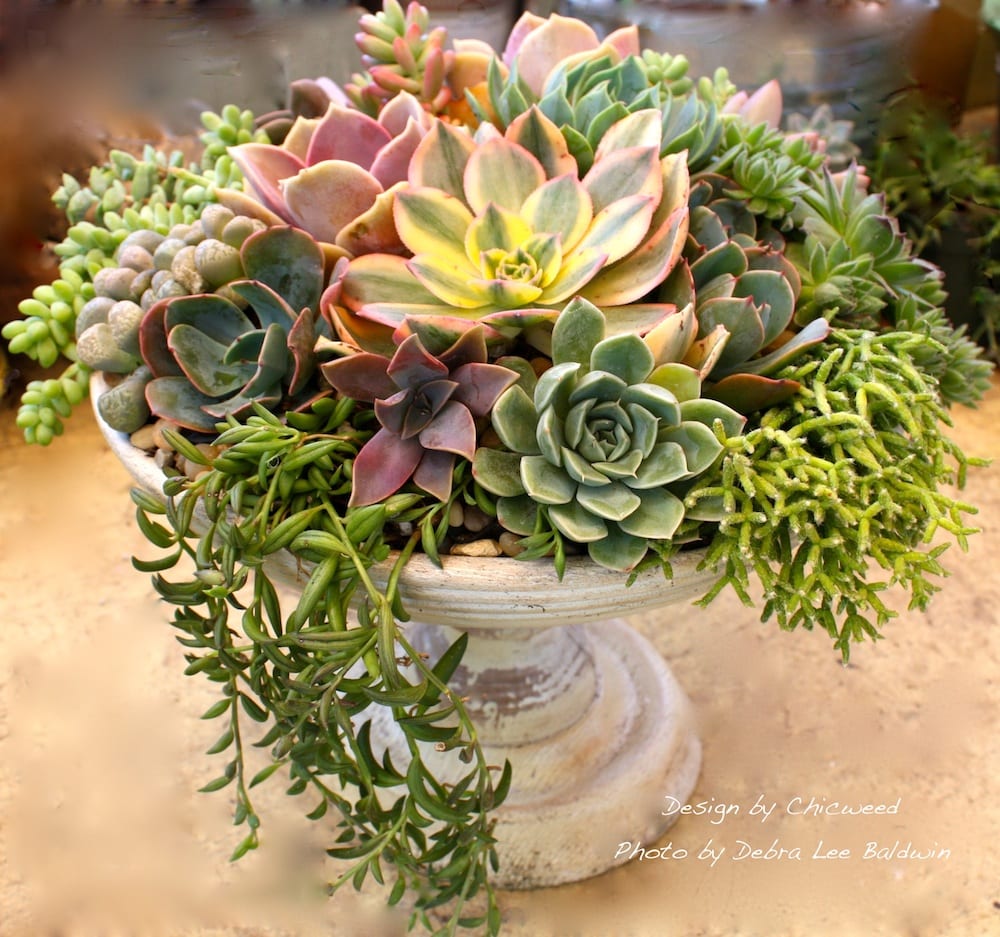 A raised pedestal container garden stuffed with a lush collection of succulents looks complicated, but it's simple once you know how. To create this floral-style centerpiece, the designer chose a white-painted wooden urn 12 inches in diameter and 8 inches tall, with a basin 3 inches deep. Plants include 'Sunburst' aeonium, Echeveria 'Perle von Nurnberg', burro tail sedum, assorted blue echeverias, lithops (living stones), and Seneco radicans (fish hooks).
Cut a circle from heavy mil plastic (such as a trash bag) and use it to line the basin. Fill with potting mix and press down on the soil with your palms to compact it. Form a mound several inches high in the middle that slopes to just below the rim.
2. In the center, plant an upright cluster of the largest rosettes.
3. Tuck smaller plants or cuttings around the center grouping, facing outward at a slight angle.
4. When the arrangement is nearly finished but still has some gaps, use a chopstick to push roots of remaining plants into the soil, and to tuck and conceal the edge of the plastic below the rim.
Gently brush spilled soil off the leaves, then water the completed arrangement lightly to settle the roots. Because there's no drainage, water it minimally, about once a week, to moisten the soil, but not so much that the roots are sitting in a puddle of water.
Design by Fresh Chic, a division of CW Design & Landscaping
For more Fresh Chic designs, see my article, Tips from a Top Container Garden Designer
Also find lovely centerpieces in my book, Succulent Container Gardens. Learn how to make them in my online Craftsy class, Stunning Succulent Arrangements. And be sure to visit my YouTube channel for more great ideas for using and designing with succulents! ~ Debra Lee Baldwin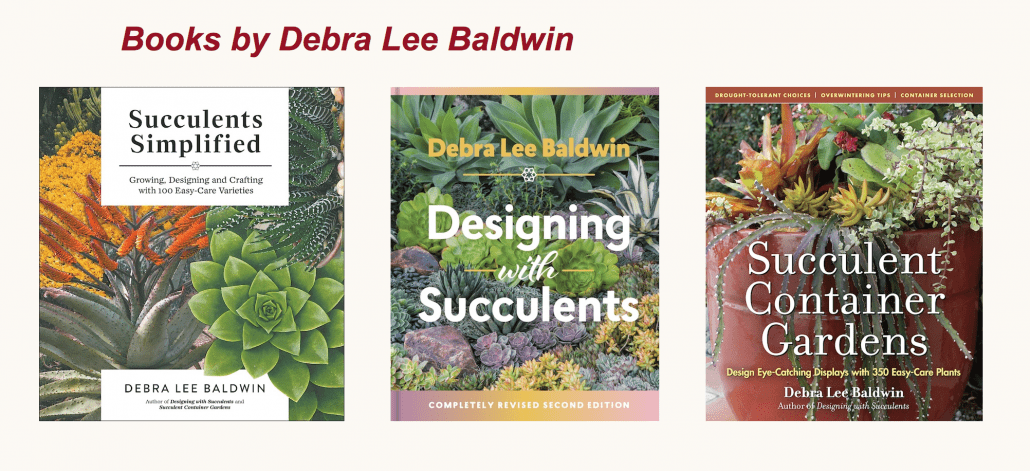 https://debraleebaldwin.com/wp-content/uploads/2015/11/IMG_4090annotated_resized.jpg
667
1000
Debra
https://debraleebaldwin.com/wp-content/uploads/2015/04/Logo-White-H200px.png
Debra
2017-11-09 17:09:03
2018-07-16 22:35:00
DIY Succulent Centerpiece Step-by-Step