When I need a quick hostess gift, thank-you present, or an arrangement for a special friend, I make a bouquet of succulents.
I start by selecting a glass container (usually a jar, thrift-store vase, or clear bottle), the size of which determines the size of the arrangement. Then I head into the garden with clippers. I cut a dozen or so succulent rosettes, and in 2 or 3 minutes per cutting, they're wired onto stems and ready to be arranged.
Echeverias, graptosedums, crassulas and kalanchoes lend themselves beautifully to bouquets because of their colorful leaves and rosette shapes. They're easy to attach to faux stems, need no water (because they live off moisture in their leaves), look good for a long time, and can later be planted as cuttings.
Materials: To make a succulent bouquet, you'll need:
— Garden clippers, wire cutters, and scissors.
— A vase, mug, jar or some other holder. Height and size don't matter, but keep in mind that your bouquet should be at least half as tall as its container, and the taller the arrangement, the more succulents you'll need.
— Assorted colorful succulent cuttings. In order for stems not to split when you wire them, they should be about the diameter of a chopstick but no thicker than your little finger (because thick tissue is tough to push a wire through).
— 22-gauge florist's wire. I buy it in prepackaged, 18-inch lengths from a craft store. You'll need one length of wire for each rosette.
— A roll of green florist's tape. This helps hold the wire in place and hides it, creating what looks like a real stem. (Wondering if you can simply use long-stemmed succulents? Yes, if you have them. You can certainly use the flowers of succulents, too!)
— Bamboo skewers (sold at any supermarket) or floral picks. These are useful for strengthening and stabilizing the faux stem and holding the cutting upright. They're inflexible, so plan to cut some of the faux stems shorter to make a balanced arrangement. I usually wire a few lightweight cuttings without sticks to have some to bend outward.
— Ballast to anchor stems. Their high moisture content makes succulent cuttings top-heavy when wired, so stems need to be held in place with sand, pea gravel, a floral frog or foam, crushed glass or—in a pinch—dried peas or beans (careful not to get them wet).
Method:
Cut wire in half and thread each 9-inch-long piece into the stem just below the lowest leaf. Wires should be at right angles to each other, so when you look down on the succulent, it'll look like a plus sign with a plant in the middle.
Place a floral pick or bamboo skewer alongside the stem or, if it's wide enough, up through the middle.
Fold wires downward so they encase the stem stub and skewer. All four wires should touch each other.
Tear or cut off 8 or so inches of floral tape. Use your thumb to hold the top of the tape against the base of the succulent. With your other hand, gently stretch the tape. Twirl the rosette and stretch the tape as you wrap the stem. (It may take a few tries, but it's not difficult.)
Use wire cutters to cut the stem to whatever length you want it to be.
Add ballast to the container and insert the wired rosettes into it (with dried floral material if you like) until you have a pleasing bouquet.
Videos I've made showing this technique:



If you'd like a professionally made succulent bouquet sent to the recipient, San Diego floral designer MariaLuisa Kaprielian (shown in my Bridal Bouquet video, above) ships nationwide. MariaLuisa's online floral shop is Urban Succulents. You'll love her site's gallery. Also follow her on Instagram @urban_succulents, where she continually posts new designs.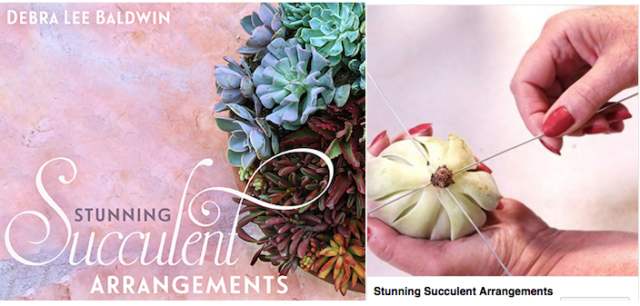 One of seven sessions of my Craftsy class, Stunning Succulent Arrangements, is How to Make a Succulent Bouquet. Use this link to take the entire class (all seven lessons) at 50% of the regular enrollment price—$20 instead of $40.
Hints:
— Handle succulent leaves minimally because they mar easily. Hold cuttings by their stems or the underside of the leaves.
— Unless you're using heavy rosettes, floral picks or skewers aren't necessary with short-stemmed arrangements (wires wrapped with tape are adequate).
— As with any good design, select elements that are colorful, textural, and provide pleasing repetitions and contrasts.
— It's nice to place the bouquet in a container that's also a gift, such as a pretty coffee mug.
— For ballast in clear-glass containers, use layers of colored sand that repeat colors in the plants.
— Include dried floral material. I often use eucalyptus because it harmonizes well with succulents.
— It's OK to combine wired succulents with fresh floral material, but you'll have to fill the container with water, which may make the floral tape come loose from the faux stems. Moreover, fresh flowers and greens last a week or less; wired succulents, much longer. (See the story of "Grandma," an Echeveria 'Lola' rosette that lasted atop her stem for several years, in the second edition of Designing with Succulents.)
— Photograph the bouquet before you give it away. Doubtless you'll want to show people later!
For how to make a SPECIAL OCCASION succulent bouquet, see my book, Succulents Simplified, pages 162-169.
To be notified of my new video releases, be sure to subscribe to my YouTube channel. 
You may also like
No doubt you know that Garden Design is a fabulous "bookazine" for […]
Read More