DIY Floral-Style Succulent Centerpiece
This lush and colorful succulent combo in a pedestal pot looks difficult, but it's simple once you know how. With the help of the step-by-step instructions and photos that follow, you'll soon be making your own lovely DIY floral-style succulent centerpieces, gift arrangements, and more.
Design by Fresh Chic, a division of CW Design & Landscaping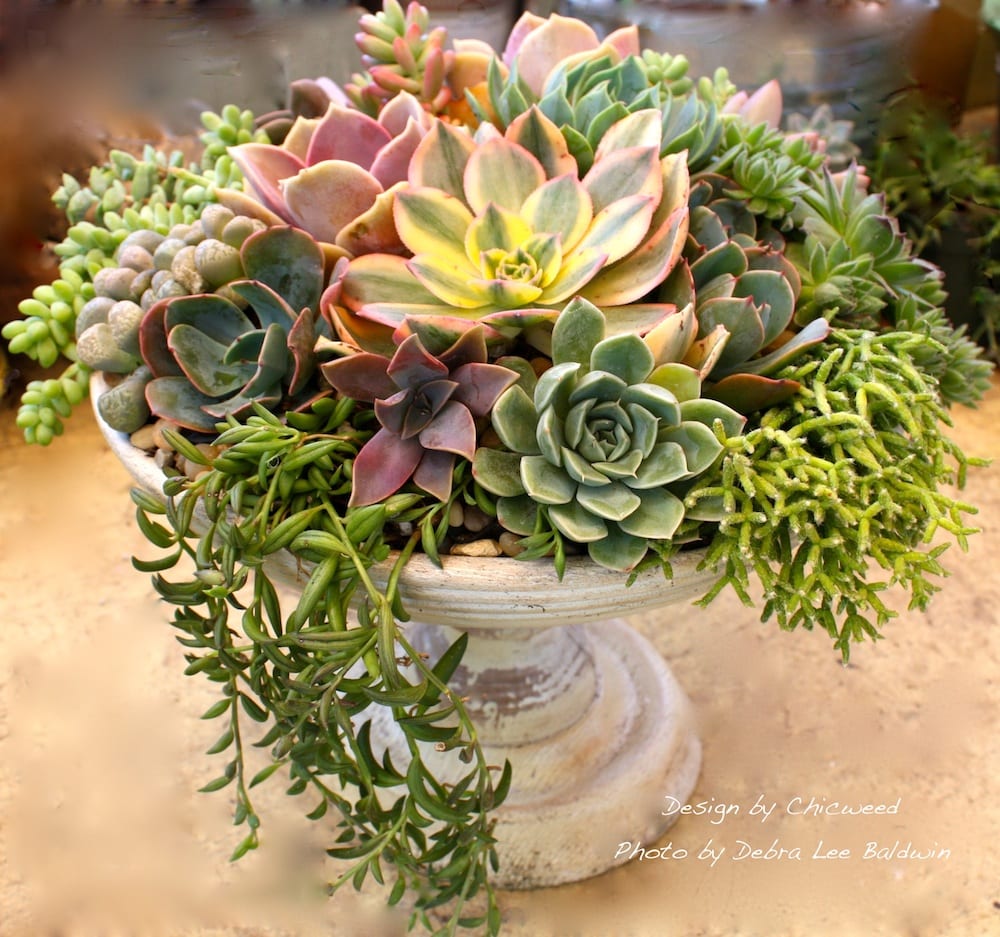 To create this floral-style centerpiece, the designer chose a white-painted wooden urn 12 inches in diameter and 8 inches tall, with a basin 3 inches deep. Plants include 'Sunburst' aeonium, Echeveria 'Perle von Nurnberg', burro tail sedum, assorted blue echeverias, lithops (living stones), and Senecio radicans (fish hooks).
Cut a circle from heavy mil plastic (such as a trash bag) and use it to line the basin. Fill with potting mix and press down on the soil with your palms to compact it. Form a mound several inches high in the middle that slopes to just below the rim.
2. In the center, plant an upright cluster of the largest rosettes.
3. Tuck smaller plants or cuttings around the center grouping, facing outward at a slight angle.
4. When the arrangement is nearly finished but still has some gaps, use a chopstick to push roots of remaining plants into the soil, and to tuck and conceal the edge of the plastic below the rim.
Gently brush spilled soil off the leaves, then water the completed arrangement lightly to settle the roots. Because there's no drainage, water it minimally, about once a week, to moisten the soil, but not so much that the roots are sitting in a puddle of water.
Additional design tips
More suggestions from designer Melissa Teisl on achieving a "floral style" aesthetic:
Pick succulents in scale with the container.
Repeat plants' colors or forms in your container selection.
Use a pot's lines and shape to lead the eye and frame the plants.
Plant densely for an abundant look.
Use crushed rock topdressing to conceal the soil.
Give the composition a setting that enhances it and vice-versa.
Expand the palette with non-succulents. For example, a cordyline will add height and drama to a tall pot.
Jazz up a gift arrangement with a satin or velvet bow.
Find DIY floral-style succulent centerpieces in my books, Succulent Container Gardens and Succulents Simplified. Learn how to make them in my online Craftsy class, Stunning Succulent Arrangements. Also visit my YouTube channel for more great ideas for using and designing with succulents!
Related info on this site: 
Where and How to Order Succulents Online
Enjoy and find inspiration in my idea gallery of 150+ floral-style, potted arrangements featuring rosette succulents. Each is a living bouquet!
Enjoyed this article? Please share it!
Succulent Container Design Design ideas and must-dos for beautiful, easy-care potted succulents Here you'll find info on succulent container design in articles and videos. Scroll down to see what interests you and best meets your needs. Click to see my gallery of 150+ floral-style arrangements! Succulent Container Gardens, How-To Welcome to the most comprehensive info…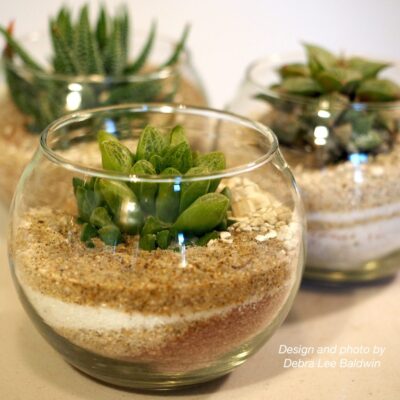 "Desk buddies" are succulents that look good on your desk and require almost no care. They're cute and classy, and visitors invariably ask about them. All you have to do is dribble water on them twice a month (which also keeps them dusted). I chose haworthias for my desk buddies because they do great in…
Enjoyed this article? Please share it!
I'm so pleased with designs created by students in my online class, Stunning Succulent Arrangements! During the 7-lesson class, I explain succulent varieties, care and propagation; and show how to make wreaths, terrariums, floral-style arrangements, a succulent color wheel and more. Craftsy's student-oriented approach allows you to take the class anywhere and anytime; pause, rewind and restart…
Enjoyed this article? Please share it!
Enjoyed this article? Please share it!