My Sea-Themed Potting Demo at Roger's Gardens
For my sea-themed potting demo at Roger's Gardens, I combined rosy-pink barnacles with cuttings of a pink-tipped, cream-striped crassula, and did a multiplant arrangement in a seashell pot. These were something I decided to do on the spur of the moment.
Roger's Gardens
 (the largest independently owned garden center on the West Coast) is all about opulent, over-the-top displays of succulents and flowering plants. These fill lovely containers, often an urn or pedestal pot that gives the nod to classic East Coast or European design. When I arrived at at 8 a.m., I hit the ground running. Roger's is a 75-minute drive from my home, and I was scheduled to go on at 9:00.
After checking the presentation area, I made a beeline for the indoor retail boutique—an eye-candy cache of home decor enhancements that change kaleidoscopically with the seasons. The shop is full of items of glass, glossy metal, colorful fabrics, and themed stuff…which is what I wanted. I already knew two parts of my design equation—succulents and summer—all I needed was a third.
Roger's sells plenty of decorative pots, and this year large, ceramic-shell planters were new. I decided to fill one with succulents suggestive of undersea flora and fauna.  To see how it came together, start to finish, view my YouTube video: Succulents, Shells and Summer: Debra's Potting Demo at Roger's Gardens.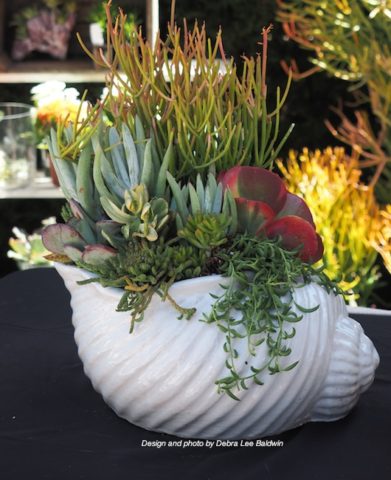 Obtain my comprehensive guide to growing and designing with succulents in containers, Succulent Container Gardens.
Related Info on This Site:

A raised pedestal container garden stuffed with a lush collection of succulents looks complicated, but it's simple once you know how. To create this floral-style centerpiece, the designer chose…
[Continue reading]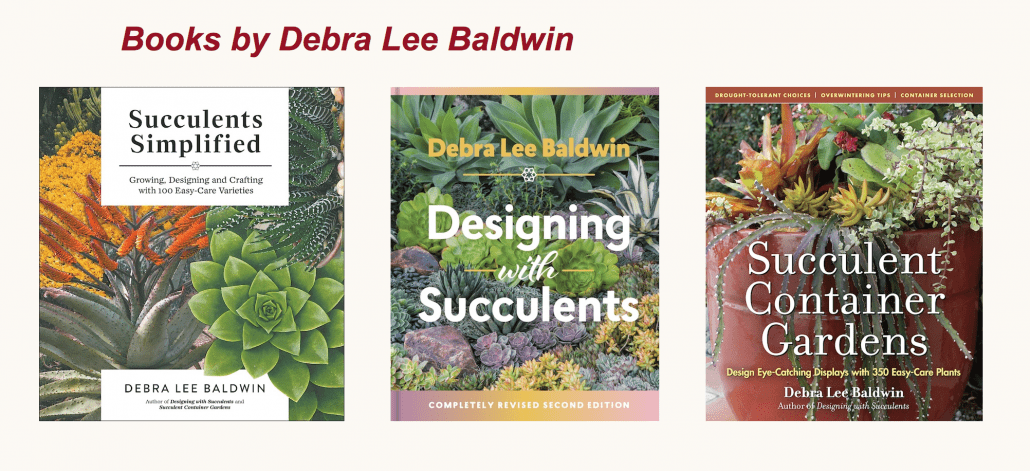 Enjoyed this article? Please share it!