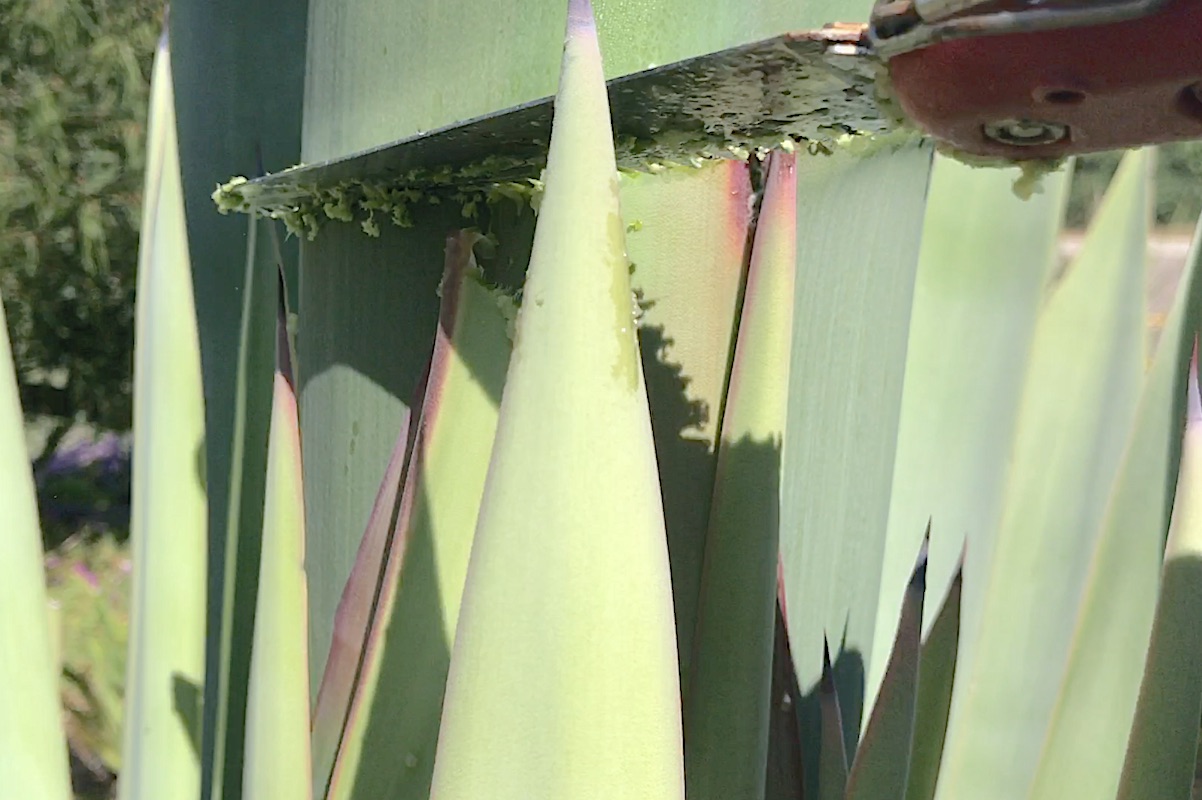 Agave Dermatitis: How harmful is agave sap? Are you susceptible?
You're already wary of poison oak, cactus glochids and the milky sap of euphorbias. Now add agave sap to the list. In susceptible individuals, it causes the skin condition "agave dermatitis."
Case in point: I assumed my ex (my then-husband) was exaggerating when he said his skin itched like crazy. I mean, how bad can agave sap be? Don't they make syrup and tequila out of it? You never hear about agaves being toxic! While attempting to remove an overly large century plant (Agave americana), he didn't don protective clothing. It was a hot day, and he took off his shirt. That was 40+ years ago. (Yeah, I owe him an apology.)
As recently as the fall of '18, I was unaware of the dangers of agave sap. Workers came to remove Big Blue, an Agave americana in my garden that had died after flowering. (See the video.)  They wore long-sleeves, trousers, sunglasses and hats. And they used a chain saw, which I've since learned is unwise, because it makes bits of the plant fly. Fortunately Big Blue was no longer juicy. Living agaves, though fibrous, contain much more sap.
With century plants getting larger than homeowners anticipated, throughout Southern CA, and inevitably dying after flowering, such removals are becoming commonplace.
Last year, without hiring help, I dealt with another big agave that bloomed. You know how I advise not bothering to cut off agave bloom stalks? I routinely say, "You might as well enjoy the show, the plant will die regardless." Well, find out why you should cut it off, on this site's Agave page.
Why is "agave dermatitis" unknown?
I predict it won't be for long. My ex merely itched. Greg M., who sent me an email earlier this week, said his skin felt like it was on fire. In Greg's case, the skin turned red and blistered. According to a dermatology site for MDs, agave sap can cause "CICD: Chemical Irritant Contact Dermatitis," which happens when oxalic acid crystals become embedded in the skin. The resulting "oxalism...may result in vascular damage." Another online source states that an estimated 30% of Mexico's tequila plantation workers experience agave dermatitis.
What to do?
I am not a medical practitioner. When in doubt, or if symptoms don't improve, contact your doctor or go to an urgent care clinic. Both my ex and Greg M. washed the sap off immediately, and both were fine. And just as you would do whenever considering contact with a potentially harmful substance, first do a patch test. The Mayo Clinic explains how.
UPDATE: "Burn was intense to hands and upper arms, immediately washed with soap so it lessened a little but not much. I then applied a generous amount of Tea Tree Oil...Total relief within less than 5 minutes." -- Debra Wood, in the Comments below. Link is affiliate.
Let me (and others) know
In the comments below, I'd be grateful if you'd share any experiences you've had with agave removal and sap exposure. Thanks!
P.S. Don't eat raw agave!
According to the Chongquing Times, "Zhang," 26, thought the agave leaf she was taking a bite out of was Aloe vera. She expected it to be bitter, but not that bitter. Her mouth and throat burned. Zhang is one of many Chinese vloggers who earn money from live-streaming their day-to-day activities. She cut short her video and rushed to a hospital, where they pumped her stomach. (You can't make these things up.)
Enjoyed this article? Please share it!