Make a Succulent Mug Gift Bouquet
Make a succulent mug gift bouquet the next time you need a little something for a friend or hostess. This transcends the traditional flower-stand bouquet and has utility long afterwards. 
Mugs sold individually at home goods stores and secondhand shops make great gifts, especially when filled with succulent rosettes that suggest exotic flowers.
Succulents wired onto faux stems are long lasting and can themselves be planted later as cuttings.
I prefer to use a mug of my own design (available online from my Zazzle store), but any nice one will do.
You'll need a dozen colorful succulent cuttings...
...sand for ballast (so the stems stay upright), 22-gauge floral wire, stretchy green floral tape, garden snippers, and wire cutters.
See each step in my recent video: How to Make a Succulent Mug Bouquet.
One of seven sessions of my Craftsy class, Stunning Succulent Arrangements, is How to Make a Succulent Bouquet.
For how to make a wedding or other special occasion succulent bouquet, see my book, Succulents Simplified, pages 162-169.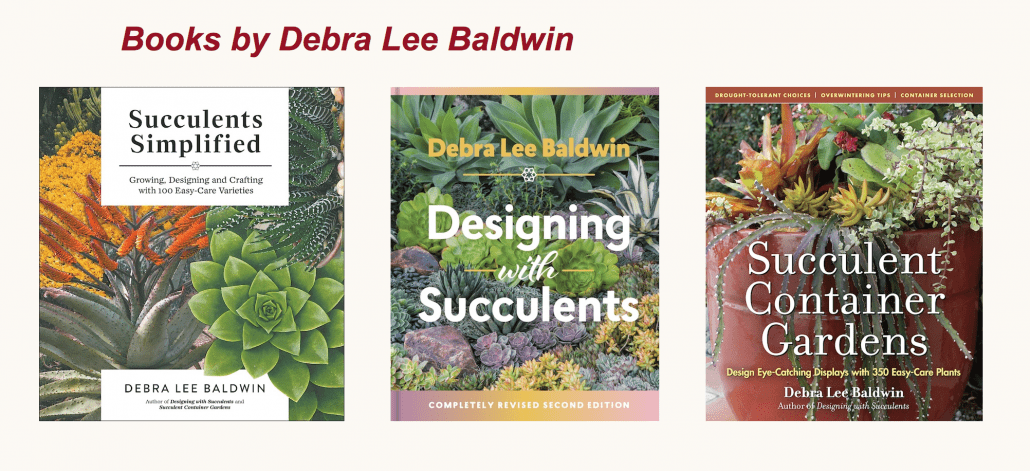 12 Succulent Bouquets to Inspire You ~ When wired onto faux stems, succulent rosettes—despite having no roots, soil or water—make long-lasting floral bouquets. Echeverias, graptosedums, crassulas and kalanchoes lend themselves beautifully to bouquets because of their colorful leaves and floral shapes. They're easy to attach to stems, need no water (because they live off moisture in their leaves), look…
Enjoyed this article? Please share it!
I like to display bouquets of succulent rosettes in clear glass containers filled with layers of sand. Practical as well as pretty, the sand lends color and interest, and serves as to anchor the stems so top-heavy rosettes don't tumble out. Succulent sand bouquets make quick and original hostess gifts. Moreover, recipients can remove rosettes from…
Enjoyed this article? Please share it!
Enjoyed this article? Please share it!