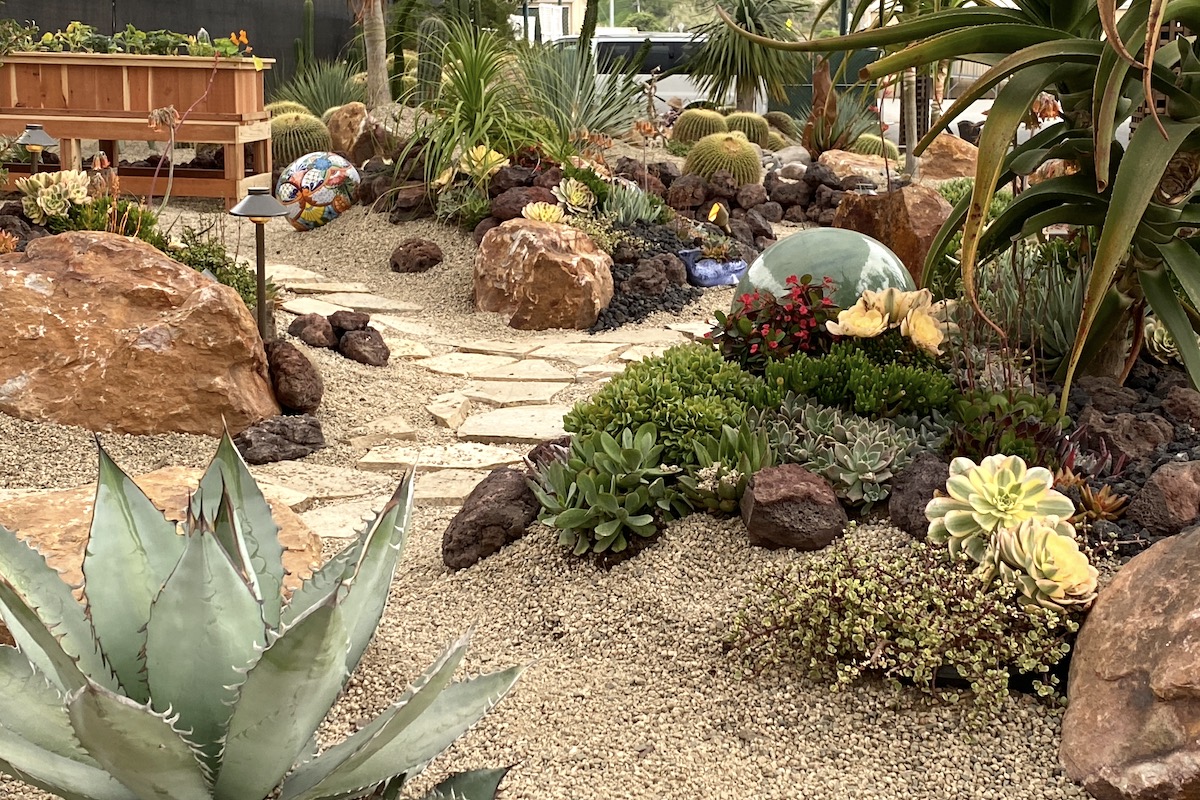 See Hannah's Award-Winning County Fair Garden
Hannah Eubanks, 25, of Design for Serenity (she's Laura Eubanks' daughter and protégé), undertook a herculean task: creating a 1,750-square-foot succulent display for the Del Mar Fair Flower Show. Hannah transformed ten motor-home-sized parking places (two adjoining exhibit spaces) into an immense, eye-catching, award-winning garden.
I was there the evening before the Fair opened to attend the Flower Show awards ceremony. Hannah, cheerful as always, said the project "challenged me to my core." You'll see why in the video I made while there...and below.
Where's the exhibit located?
When you enter the Fairgrounds go left to into the Flower Show. Find the big succulent garden on the west side facing the east end of the Bing Crosby Hall, adjacent to the SW corner of O'Brien Hall.
The Del Mar Fair website gives hours, admission, parking info and more. San Diego County's summer Fair, which averages 1.5 million visitors annually, runs through July 4.
"So many awards!"
The energy at this year's Flower Show award ceremony was palpable as Hannah, her sister Alex and friends awaited results. Over the course of the evening, Hannah, on behalf of exhibit sponsor Grangetto's, won five awards!
Fellow designers---who'd become like family---gave a delighted Hannah hugs, high-fives and happy whoops. Parents Laura and Greg Eubanks, away in Northern CA, watched proudly via Alex's texts.
What Hannah accomplished
To understand and appreciate the scope of what San Diego's youngest and brightest succulent garden designer managed to pull off, consider that Hannah…
did it all on her own during six 10-hour days
had only occasional hand's-on help
moved boulders (ten tons worth, some bathtub-sized) with a rock dolly
moved dozens of barrel cacti, many weighing more than she does
coordinated all materials---much of it donated---with nurseries and suppliers
was given free reign by sponsor Kevin Grangetto of Grangetto's Farm and Garden Supply
was invariably cheerful, bubbly, friendly, hardworking and professional (but that's Hannah).
Links and credits: Who did what
Do support these outstanding businesses---a win-win for both you and them.
Details of the display
Do see the video to hear Hannah on how she tackled all this:
Square footage: 1,750
Boulders: 10 tons
Gravel topdressing: 6 yards
Soil: 10 yards
The goal of Grangetto's first-ever Del Mar Flower Show display is to let homeowners know that the company welcomes and serves residential customers. "Seventy percent of our business is now retail," owner Kevin Grangetto told a KUSI-TV business reporter the day the Fair opened. He added that when his father founded the business in 1952, Grangetto's was primarily an agricultural supplier.
A name long respected in San Diego's farm and gardening communities, Grangetto's has locations in Encinitas, Escondido, Valley Center and Fallbrook. The staff is friendly and helpful. For 30+ years, I've consulted Grangetto's helpful staff about garden supplies, just as my dad did decades earlier for the avocado ranch I grew up on.
Kevin told the KUSI reporter that Grangetto's offers "everything you need to grow plants: irrigation, fertilizer, tools and more. Everything but the plants, literally." Not surprisingly, Grangetto's has a symbiotic relationship with nurseries, which---as Kevin noted--- "Hannah sourced to create a beautiful display."
Related Info on This Site
Succulent designer Laura Eubanks of Design for Serenity is no stranger to crises. The challenges she's had to overcome—including a horrific childhood—have given her wisdom, compassion and a keen desire to mentor and inspire others. Due to an unfortunate turn of events, she's now the one in need of help..
Enjoyed this article? Please share it!
Hannah Eubanks, 24, shows us a stunning succulent reef garden she created for a client in Vista, CA. The youngest of three daughters of celebrity landscaper Laura Eubanks, Hannah expedited the project start-to-finish. "My mom was totally hand's-off," she says proudly.
Enjoyed this article? Please share it!
Succulent Landscapes Design ideas and must-dos for your yard's transformation Want to transform your yard into a low-maintenance, low-water succulent garden? This page guides you to helpful info on this site and on my YouTube channel. Before you purchase plants or pick up a shovel, do obtain my book Designing with Succulents (2nd ed). It's mainly about…
Enjoyed this article? Please share it!