There's a newer version of this page. (Under construction.)
My goal with my own garden is to create a three-dimensional art form that serves as a backdrop for videos, photo shoots and casual get-togethers. Whether in books, photos, videos or presentations—or with plants, rocks, and sweat---I'm invariably about entertaining and sharing in equal measure. It's one way I define joy.
Yours truly in the lower garden with "Big Blue." Photo by Craftsy.
My steep, terraced half-acre garden as viewed from my house. 
IMHO, a garden can never have too many rocks. This sloping bed is home to dwarf aloes and haworthias growing in a pumice-rich mix. 

My dry pond has thin, nearly spineless cactus pads I ordered from Florida (!). The "water lilies" are graptoveria rosettes. 
One of two succulent tapestries by designer Laura Eubanks.
Related articles:
My succulent meditation garden
Succulent garden design essentials
I've filmed numerous YouTube videos in my garden. The most popular shows how to replant an overgrown bed:
If you REALLY want to come see my garden, I do occasionally give private tours for visiting VIPs. Email me. 
My garden is also featured in my book, Designing with Succulents (2nd ed.).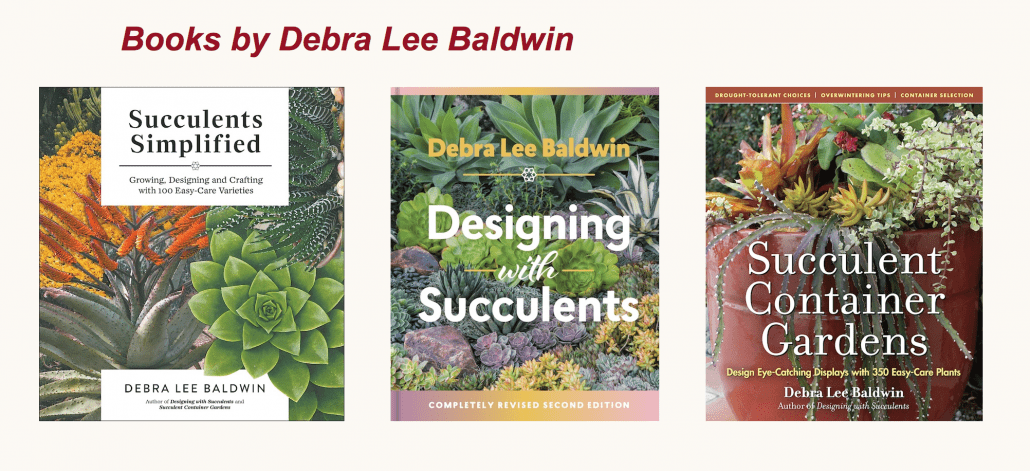 ---
Enjoyed this article? Please share it!