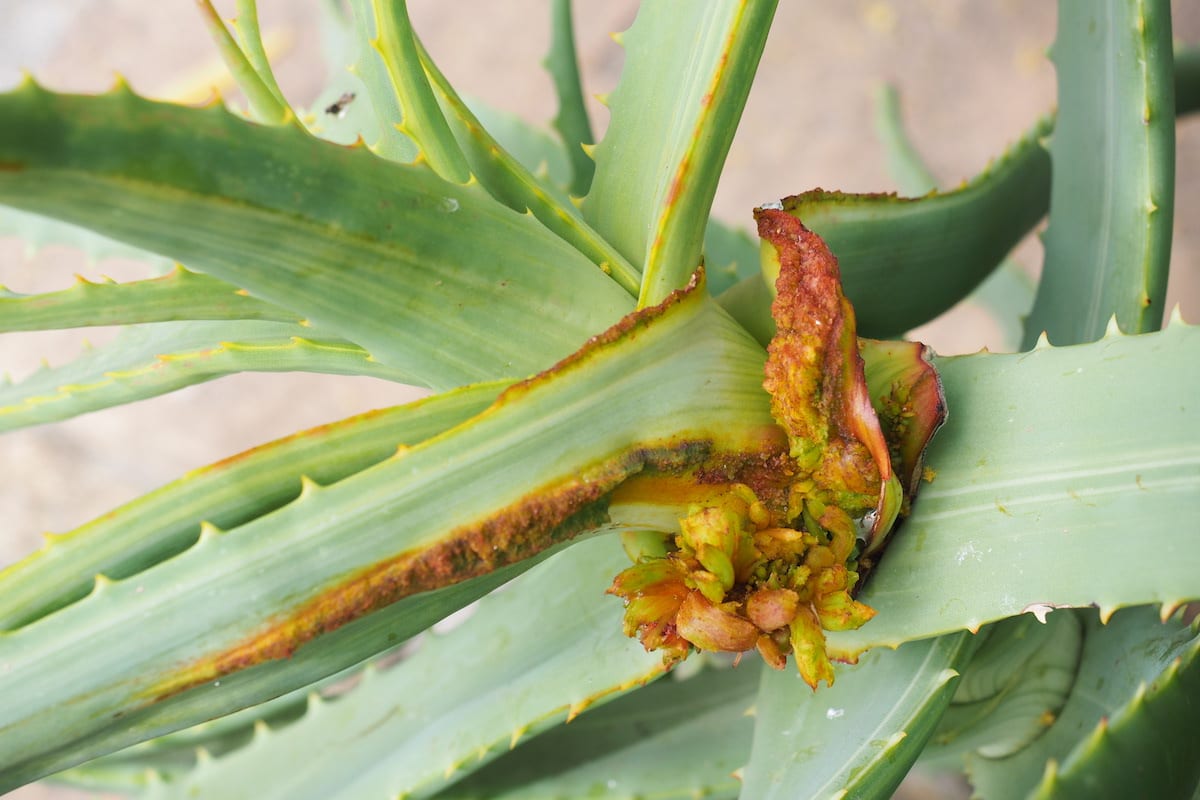 They seem everywhere in spring: mite-damaged aloes ranging from dwarf cultivars to tree 'Hercules'. The microscopic pests (Eriophyes aloines) are not insects but spider relatives. They cause deformed flowers, a bubbly fringe on leaf edges, and orange-and-green growths where leaves meet stems.
Google "aloe mite treatment," "aloe mite prevention," "aloe gall" or "aloe cancer," and you'll discover that distinguished experts, landscape designers, succulent societies and growers---and even federal agencies---are aware of the problem. Yet they don't agree on prevention and treatment. Environmentally-unfriendly chemicals supposedly help to some extent, but are expensive, come with cautions, and aren't allowed in certain states (like California).
What Sort of Bugs Are They?
Mites, protected within galls, are impervious to topical pesticides. To protect rare and valuable specimens, aloe growers and collectors may apply a preventive systemic---a miticide that's taken up into the tissues of the plant via the roots---but it has to be applied before there's evidence of infestation.
Mites inject a chemical that causes cancerous growth. They produce as many as eight generations a year, and each female lays 80 eggs a month. Mites travel via water, wind, garden tools, and people who find bizarre formations fascinating.
Here's what I do
 At first sign, excise affected tissues and bag them for the trash (do not put them in green waste). If an infestation is severe, dispose of the entire plant. After all, it's a breeding ground. Even if you don't mind the galls, do get rid of them before they infest other aloes.
Any aloe is at risk. Best control is prevention. If you don't want to get rid of existing plants, at least cut out the knobby growth. Keep in mind the mites are wind-borne and gravity aids them. They're most apt to spread when infested aloes are blooming. Remove any flowers with distorted growth.
Should you use pesticides?
I don't, because I agree with aloe expert Kelly Griffin who says, "just about every plant I have grown has some Achilles heel. Learning to deal with it is just part of living. Aloe mite is one for Aloes. In Agaves you have the weevil and the grease mite. You just need to recognize it early and do something. If you don't, it just gets more pervasive."
What if you really want to nuke them? Kelly adds: "...to excise and then treat with chemicals is a good one keeping in mind it is a mite, it needs to be a miticide to have any possibility of success. If the plant is badly infested, it might be smart to consider not spending twenty dollars on poison for a ten dollar plant." For what members of the "All That Is Kelly Griffin" Facebook group use to control mites, see the rest of the thread.
Be sure to scroll down to the Comments for what succulent expert and author Duke Benadom recommends.
It's not the end of the world
These photos, taken in my own garden, show two different aloes six weeks after gall-removal surgery. I simply used a sharp knife to slice the plants well below any signs of infestation.
Related info
Aloes: How To Grow & Varieties All about aloes plus a photo gallery of aloes ID'd and in bloom See All Succulent Types Aeonium Agaves Aloes Cactus Crassula Echeveria Euphorbias Ice Plants Kalanchoe Portulacaria Senecio About Aloes There are dozens of species of Aloe, from tall trees to dwarf cultivars. Aloes typically have juicy, triangular leaves…
White fuzzy lumps on paddle cactus are cochineal (coach-en-ee-al) scale, a parasite that pierces the plant's skin and consumes its juices. It's used to make carmine dye.
Enjoyed this article? Please share it!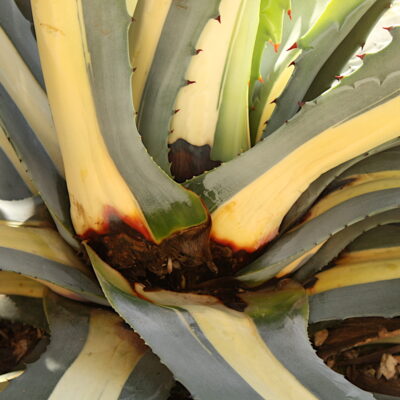 Agave snout-nosed weevil is a half-inch-long black beetle with a downward-curving proboscis that enables it to pierce an agave's core, where it lays its eggs. Grubs hatch, consume the agave's heart, then burrow into the soil to pupate.
Enjoyed this article? Please share it!
Enjoyed this article? Please share it!