Big Blue's Life and Demise
The largest succulent ever to grace my half-acre garden was an Agave americana we called "Big Blue." With six-foot leaves lined with sharp teeth, it looked capable of eating guests who shot selfies with it. Agave americana is commonly called "century plant" because it seems to take forever to flower and die, but Big Blue's lifespan was only 20 years.
Big Blue and I didn't always get along. It was armed and dangerous, and on occasion snagged my skin and drew blood. This was usually my fault. I liked to lean in and take photos of its bud imprints—scalloped lines caused by leaves that had pressed against each other before they unfurled.
It also tried to take over the garden, producing pups (clones) from its roots. These popped up in all directions, including uphill. This tendency for century plants to reproduce like feral dogs was probably why my neighbors put it out in the trash in the first place. But when I noticed the 2-foot pup, I knew it would look good in a pot, its leaves contrasting with terra-cotta orange.
That was seven years before the publication of my first book about succulents, and I had much to learn about agaves. I didn't think the pup would live because it had been severed at ground level. But after a few months, it plumped and thrived. I kept it in the pot—where it stayed small—and a few years later planted it in the garden.
Big Blue grew ever larger as other ornamentals came and went. A Bailey's acacia planted near it in 2007 became a 20-foot tree. Every spring, while hosing fallen acacia flowers from the agave's center, I admired how its guttered leaves funneled water to the roots.
Agave americana loves irrigation but doesn't need it, so early-on I capped nearby risers. Peevishly, Big Blue broke a pipe that, located beneath barbed leaves, was impossible to repair. (I should have seen that coming.) After shutting down the line, I spent countless summer afternoons hose-watering.
A landscape designer friend said, "You know, Debra, that americana is going to grow into the pathway." That seemed unlikely—it was five feet away. I replied, "Then I'll just move the pathway." And six years later, I did.
We wore protective glasses when digging-up pups. I gave small century plants to whomever would take them. But because they came with cautions, most went without adoption and languished in 1-gallon nursery pots. Leaves shriveled, then swelled during winter rains. Some of the little rascals rooted through holes in their pots.
Big Blue and I made a YouTube video: "What You MUST know about Century Plants." In it I explain "the pupping thing" and the mistake of not knowing how big an agave will get before planting it.
In February, 2018, Big Blue at last attained the sugar content needed for flowering—a grand achievement that produced masses of flowers followed by seed pods. That summer, the agave's 30-foot flower spike hummed with pollinators.
Keeping what remained of Big Blue wasn't optional; its sailboat-mast spike was leaning at a 45-degree angle toward the street. I videoed the agave's removal that October.
A few years earlier, knowing Big Blue's demise was inevitable, I decided to keep a well-positioned offset. That pick-of-the-litter is maybe a fourth of its eventual size. I don't get sentimental about succulents, but I am glad to have Big Blue Two…although (sigh) it's started pupping.
See Big Blue's chain-saw exit on my YouTube channel: "Agave americana Bloom and Removal" (4:44). Also:"What You MUST know about Century Plants" (2:50).
Related info on this site:
You're already wary of poison oak, cactus glochids and the milky sap of euphorbias. Add agave sap to the list. In susceptible individuals, it causes the skin condition "agave dermatitis."
Enjoyed this article? Please share it!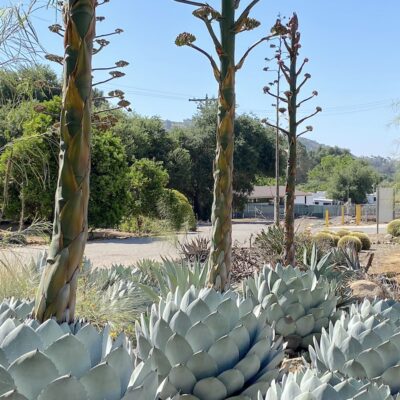 Your agave is blooming! Now what? In my new video, Q&A and photo gallery you'll find expert advice, agave IDs and how to start the plants from seeds and bulbils.
Enjoyed this article? Please share it!
As with most vegetables, roasting an agave's heart enhances flavor and sweetness. Cottage distilleries in Mexico roast piñas in pits dug into the ground, sort of like a luau.
Enjoyed this article? Please share it!
Enjoyed this article? Please share it!