Top 20 Succulent Types at a Glance
I created my video "Top 20 Succulent Types at a Glance" (above) because of an email question I get asked often: "Can you ID my succulent?"
Since I live and breathe succulents, it's easy for me to recognize many---if not the species or cultivar, usually the genus. (Cacti are more tricky, although I do know a cactus when I see one.)
To make things easy for you to remember and provide a useful overview, in the video I take you on a tour of 20 types all succulent lovers will want to recognize at a glance.
Now, what about my ID'ing your mystery succulent? At the risk of being flooded with inquiries, please know I'm happy to do so for my "Celebrating the Joy of Succulents" subscribers. Receiving my newsletter is also the only way to send me a photo: Hit "Reply" and attach it. Do mention where you're located (city or region), especially if you want me to ID a pest or problem...AFTER you've been to my Pests & Problems page, please!
WANT more on a CERTAIN variety? Go to: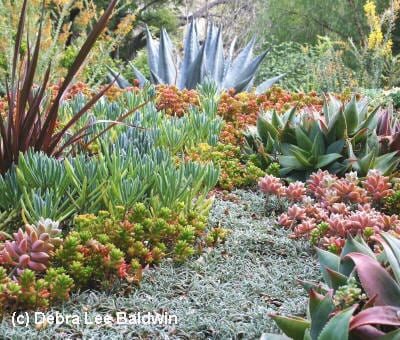 Debra's Dozen Easy-Grow Succulent Plants for Beginners
Trying to make sense out of succulents? There are numerous varieties, but these are the most common succulents and those you'll likely run across. Enjoy growing and discovering these fascinating "plants that drink responsibly!"
Echeveria Info, Photos & Varieties How to grow echeverias perfectly, plus an extensive gallery, all ID'd See All Succulent Types Aeonium Agaves Aloes Cactus Crassula Echeveria Euphorbias Ice Plants Kalanchoe Portulacaria Senecio About Echeverias Here you'll find expert advice to help you grow echeverias perfectly, with a gallery of 150+ beautiful, notable species and cultivars.…
Enjoyed this article? Please share it!