Oh No, My Succulents Froze!
I've been hearing from Texans with severely damaged gardens. Sounds like you did the best you could, but no one anticipated the severity of the cold snap. You're asking what might be done, and here's my best advice:
Even though the top growth is severely damaged, your succulents may survive if their roots are intact. You won't know for certain for several months. Spring—the main growth season for the majority of succulents—can work wonders. Remove any soggy, collapsed leaves as soon as all danger of frost is past. If you don't see new growth by May or June, it's probably time to pull up the plants and start over. Keep us posted, OK? 
Below is my earlier post for this page, which has to do mainly with coastal and southern CA in-ground gardens (like my own). -- Debra
Will succulents recover from frost damage?
It depends. Here's how frost-tender succulents looked before temps dropped into the mid-20s F, and after: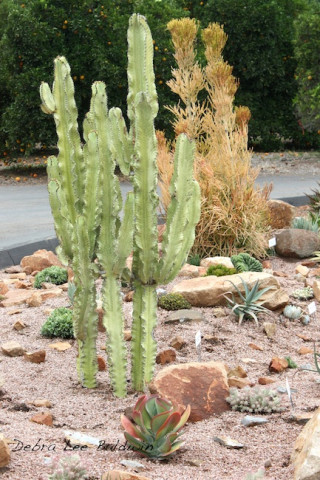 Here's the same Euphorbia ammak 'Variegata, after the frost: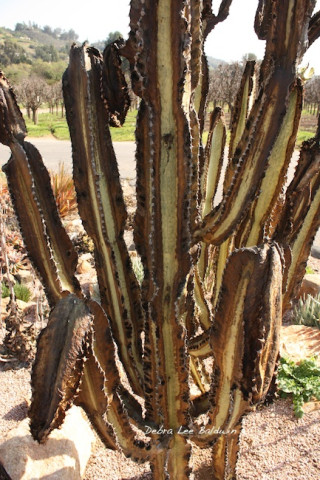 Likelihood of recovery: Nil. Too much of the tissue was damaged. But what about the Euphorbia tirucalli 'Sticks on Fire' behind it? It's hope of recovery is excellent because only the top growth froze. It protected the stems underneath, which are still healthy.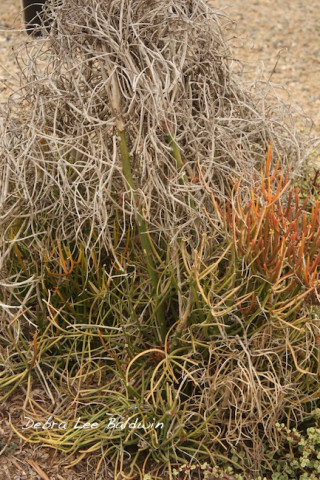 If something similar has happened to your plants, succulent or otherwise, once all danger of frost has passed, prune the dead top growth and the plant will be good as new…except smaller, of course!
How about the frozen aeonium below? Pretty much hopeless. But look a the Sedum 'Angelina' surrounding it. It's a succulent too, and perfectly fine!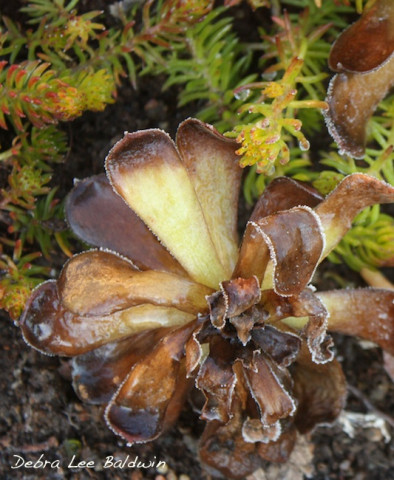 Why does frost kill some succulents and not others? A lot has to do with where a particular kind of plant originated. Succulents, which store water in their leaves to survive drought, are mostly from dry, hot climates. But some are from dry, cold climates. See my Wall Street Journal article on this topic.
If Your Succulents DO Become Damaged
Remove collapsed leaves if it's likely they'll rot, because that threatens the health of the plant. If instead they dry out, they'll help protect healthy tissue from future frosts. Leave them on, then prune after the weather warms.
Preserve the symmetry of slender-leaved succulents (such as agaves and aloes) by trimming tip-burned leaves to a point, rather than cutting straight across. (See below.)
Chalk it up to experience. Now you know that particular plant is vulnerable and needs a protected location.
How to trim a frost-burned Agave attenuata
The tips of the leaves of this agave melt at 32 degrees, but the plant is usually fine. Here's how to make it look good again---only takes a minute!
Related articles and info:
Winter Protection for Succulents: Products  Soggy soil, dim light, high humidity and freezing temperatures can be death to succulents native to warm, arid climates. These items will help you get your succulents through cold, wet North American winters...[Continue reading]
My books have info on growing succulents in challenging climates and how to protect them from frost and excess rain.
All the info you need, all in one place: 
I also recommend this excellent book about succulents that survive freezing temps: Hardy Succulents, by Gwen Kelaidis, illustrated by Saxon Holt.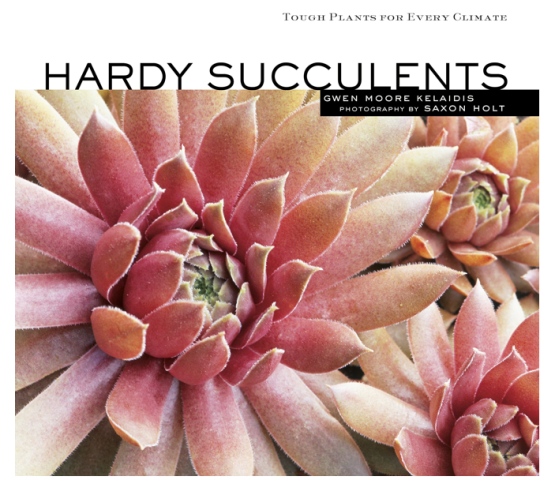 Enjoyed this article? Please share it!