Don't let midsummer heat, sun and dryness damage your succulents! 
If you live in an arid climate and grow succulents in the open garden (as I do), I recommend you ~
— Watch and enjoy my latest video: Succulents, Sun and Summer. On an 89-degree day I give a tour of my garden, noting what's in bloom, lookin' good (or dreadful), and checking the health of succulents small and large.
— Move sun-sensitive potted succulents into the shade: haworthias, gasterias, euphorbias, faucarias, sansevierias, echeverias, and anything light-colored or variegated.
— Give aloes and crassulas enough sun to turn bright colors but not so much that leaf tips shrivel or burn.
— Shade horizontal stems of trailing aloes, senecios, othonna and the like. Sunburn hinders stems' ability to transmit moisture from roots to leaves.
— Create temporary shade structures from old window screens.
— Or use leafy branches trimmed from trees (insert in the ground next to a plant you want to protect, on the side that gets the most sun).
— Evaluate garden areas in need of shade, and plant trees when the weather cools in the fall. And for that (drum roll) I have another new video: Twelve Low-Water Trees for Succulent Landscapes.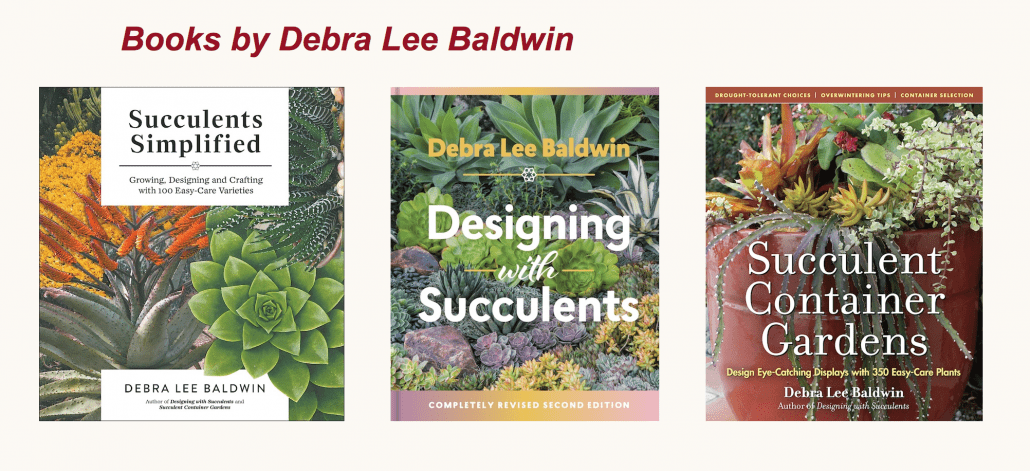 https://debraleebaldwin.com/wp-content/uploads/2017/07/Screen-shot-2017-07-15-at-5.18.22-PM.png
429
660
Debra
https://debraleebaldwin.com/wp-content/uploads/2015/04/Logo-White-H200px.png
Debra
2017-07-15 18:32:56
2017-12-03 18:40:05
Summer Care for Your Succulents