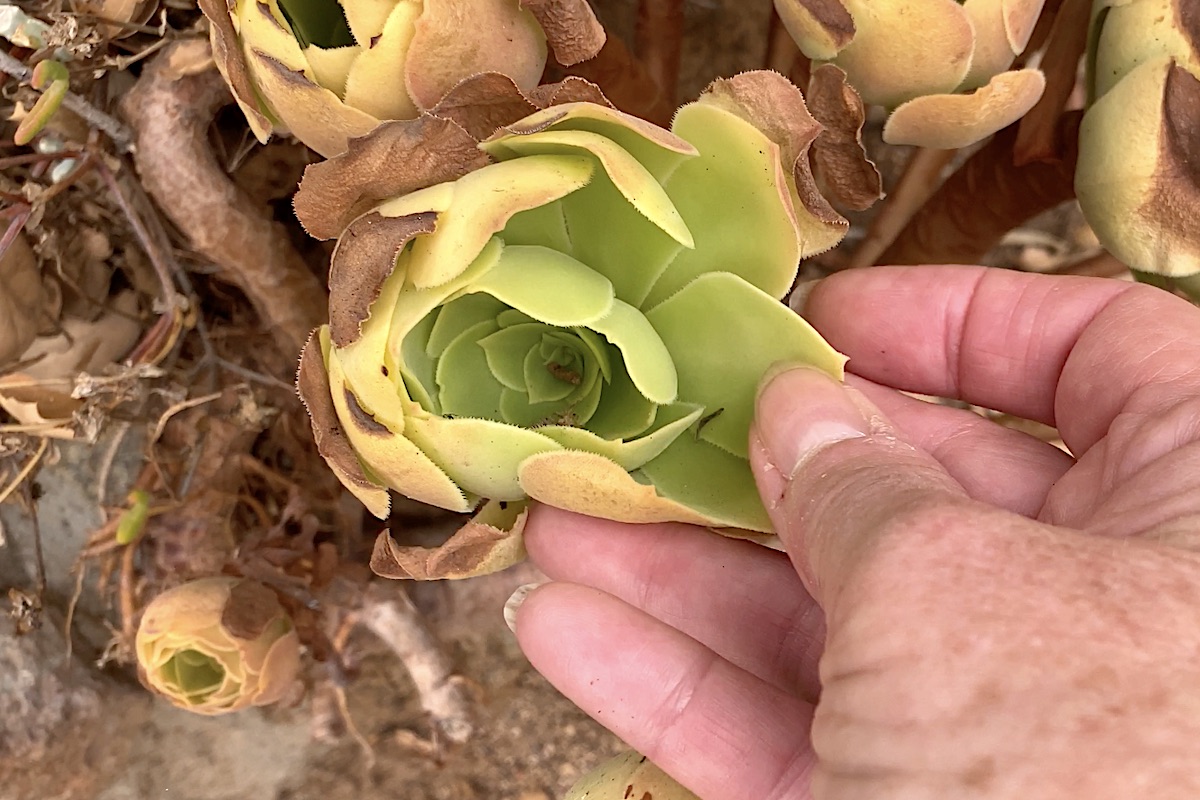 Post-Summer Succulent Concerns
Following a brutal, early-September heat wave, I tackled common, post-summer succulent concerns. See them in my new video: Post-Summer Care for Succulents (6:49).
Video: Post-Summer Care for Succulents
It's a candid, warts-and-all, behind-the-scenes, damage-control assessment. You may notice that my garden is not quite the Eden I showed you six months ago in Debra Lee Baldwin's Idea-Filled Succulent Garden (15:00).
Yet as sad as many of my succulents look (perhaps yours do too), I have good news: These are resilient plants. Follow my simple suggestions and---if still breathing---your succulents will likely bounce back.
Diagnose and fix post-summer succulent concerns
Numbers in parenthesis indicate where these topics appear in the video.
Scorched tips (0:52). The method I demonstrate for pruning Agave attenuata works for winter frost-burn, too: Use long-bladed scissors and prune to a point that follows the shape of the leaves.
Sunburn (1:32 and 4:59). I show you preemptive measures (like covering the plants with non-woven fabric), but once the damage is done, there's not much you can do except trim.
Echeveria edema (1:46). Shading my echeverias during the heat of the day helped most of them, but unfortunately not all.
Mealy bugs (2:05). These lint-like pests snuck up on my echeverias when I wasn't looking. I immediately dosed them with alcohol.
Shriveled leaves (2:49). Succulents naturally draw on stored moisture to survive dry spells. No worries, leaves will plump when it rains.
Yellow stems and burned patches (3:08). These can be serious, but it depends. For example, my dragon-fruit cactus surprised me.
New plants, wrong location (3:18). Looks like I need to redo (and rename) my "mangave terrace." It's way too sunny.
Dead-looking aeoniums (4:31). It's tempting to yank them, but wait! Take a closer look. They may merely be asleep.
Keeled-over paddle cactus (5:29). Oops. Guess it needed more hydraulic pressure (i.e. water).
Cochineal scale (6:16). Another sneaky pest! I take a two-for-one approach: While hand-watering my opuntia, I blast off the bugs.
White fuzzy lumps on paddle cactus are cochineal (coach-en-ee-al) scale, a parasite that pierces the plant's skin and consumes its juices. It's used to make carmine dye.
Enjoyed this article? Please share it!
Enjoyed this article? Please share it!