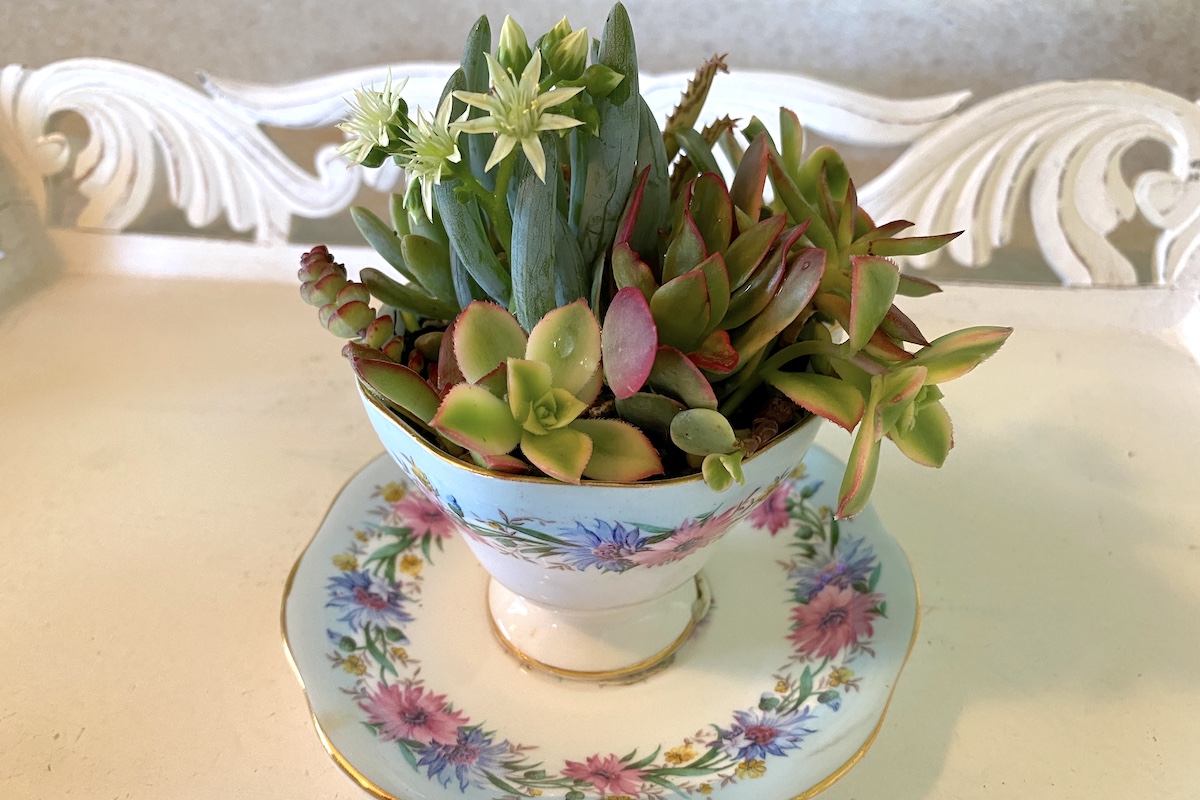 Make Succulent Teacup Gardens
Succulent teacup gardens are lovely on windowsills, sunny shelves and outdoor tables, either individually or grouped. They're quick and easy to make and are ideal gifts for succulent lovers. When cuttings outgrow the cups, transplant them into larger pots or the garden. No need to add drain holes; simply water minimally. As you'll see, I've had a teacup arrangement thrive for 18 months!
In my new video, DIY Succulent Teacup Gardens (6:32), I use an assortment of cups to showcase colorful cuttings. Teacups---which often come in sets of china---tend to be unused and take up cupboard space. Give them new life as mini-planters. To make these cutting combos look high style, use dainty, thumbnail-sized rosettes. The more color the better, especially if it matches colors in the cup. If you also echo a pattern---like daisies or roses---your mini-garden will look amazing.
How to Make a Succulent Teacup Garden, DIY
Materials for one teacup
Click links for sources. Some are affiliate.
Method
Assemble your cuttings. Trim lower leaves so each has about an inch of stem to insert into soil.
Attach cup to saucer to secure it, so it won't slide, using museum putty or floral clay.
Fill cup halfway with pumice and the rest with "cactus mix" potting soil...or just fill to the brim with cactus mix.
Arrange cuttings, starting with the largest. Position it just off-center.
Add assorted smaller cuttings until no soil shows.
Optional: Add a dainty spray of succulent flowers.
Brush spilled soil from the saucer.
Dribble water onto the arrangement to clean and settle it.
Care
Once a week or so, depending on the weather, give the mini-garden about an ounce of water. Think of it as adding cream to your coffee. Soil dries out quickly in a small container, so there's little danger of roots rotting, especially if you've added pumice to absorb excess moisture. Aim to keep soil barely moist. An hour or two of sun daily keeps plants compact and colorful. Protect from frost. Don't let any nondraining container stay soggy due to rain or automatic irrigation.
Cuttings will likely root in a few weeks. As succulents grow, they can remain in the arrangement, or be transferred into a larger pot or the garden. Succulent flowers last about a week without water. Unlike cuttings, flowers won't root and will need replacing.
Succulents I used
For my video's three teacups, I used a cheerful assortment of cuttings from my garden, including Echeveria 'Perle von Nurnberg', Crassula 'Hummel's Sunset', Crassula tetragona, Crassula 'Baby's Necklace', Crassula platyphylla (regular and variegated), Crassula perforata 'Variegata', a spray of white flowers from Crassula multicava, Cremnosedum 'Crocodile', tiny aeonium rosettes (notably Aeonium 'Kiwi'), yellow and white sedum flowers, pale yellow aeonium flowers, Senecio serpens, Sedum rubrotinctum, Lampranthus deltoides, Portulacaria afra 'Variegata', and Kalanchoe daigremontiana. But it really doesn't matter.
In my new DIY Succulent Teacup Gardens video, you'll watch me assemble five different mini arrangements.
Additionally, I used two mugs---one as a vase filled with water for a bouquet, and the other as a pot for a mammillaria cactus.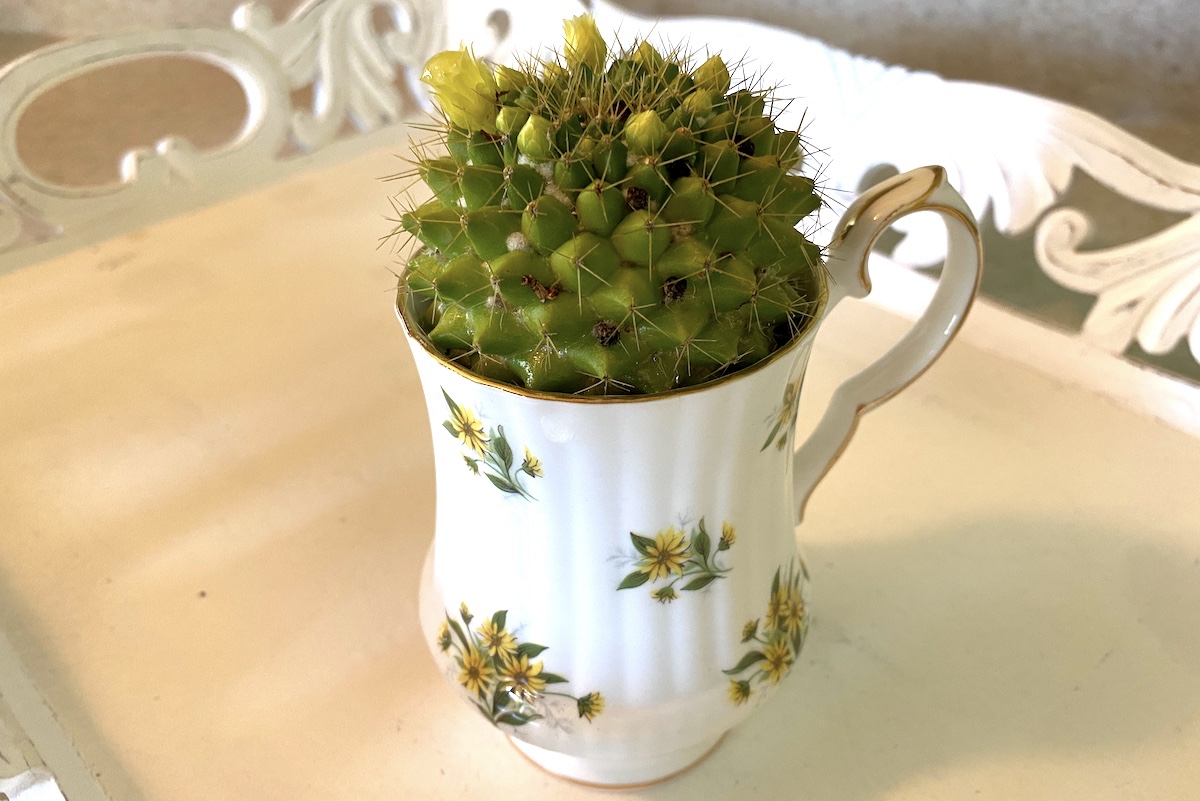 The mam's yellow flowers and bright green color are a perfect match for this mug.Yes, you can plant cacti in nondraining containers. Case in point is this precedent-setting one, below.
Also in the video I show a teacup I planted 18 months ago. The cup's  Mammillaria plumosa has nearly doubled in size!
I chose that cactus originally because it's white and fluffy-looking, and it reminded me of whipped cream. What do you think: Does this suggest a cup of hot cocoa to you?
Make a succulent mug gift bouquet the next time you need a little something for a friend or hostess. This transcends the traditional flower-stand bouquet and has utility long afterwards. 
Enjoyed this article? Please share it!
Megan Boone of Nature Containers Vintage Garden Art uses cast-off objects to showcase succulents. As shown by the planted pick above, Megan brings elegance and whimsy to her artistry. I love how the aloe perfectly repeats the shape and color of the rusty metal, and also emphasizes its arc.
Enjoyed this article? Please share it!
Enjoyed this article? Please share it!